1. The Gryphon Tea Room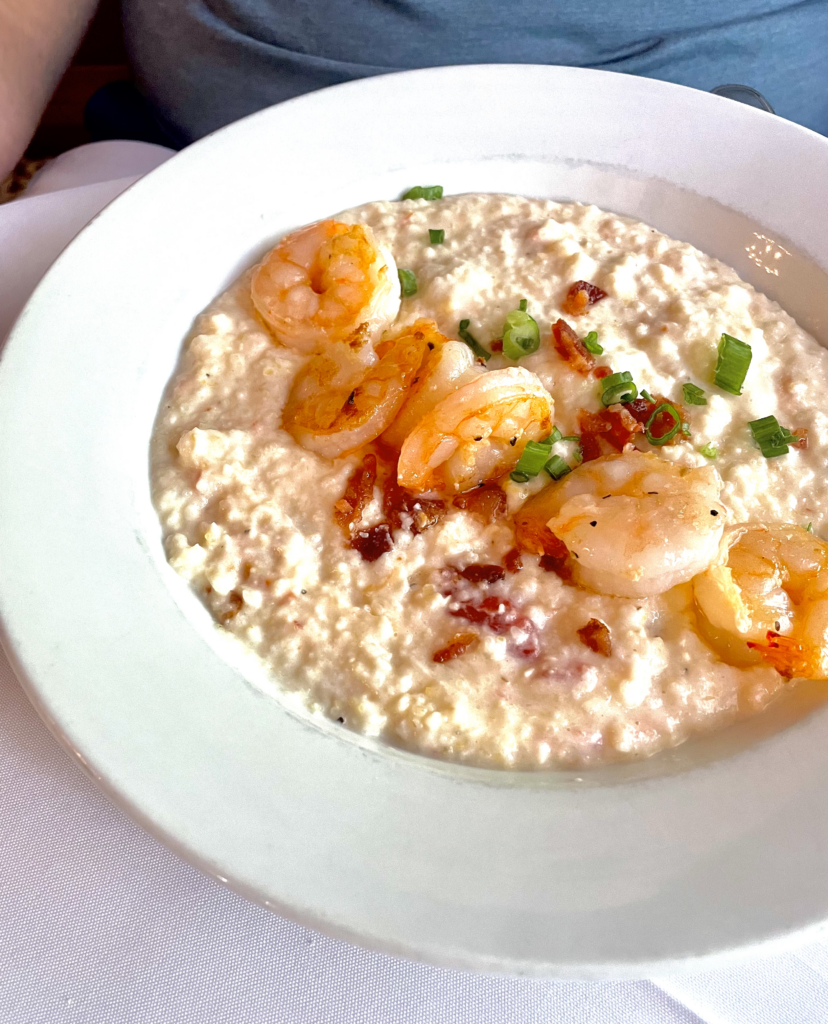 The Gryphon Tea Room building was actually built in 1926 and was originally used as a Scottish Rite Temple. Later on in the 1900s it served as an apothecary to the Solomon brothers of Savannah. Then in 1981 SCAD (Savannah College of Art and Design) purchased the space and turned it into a fine dinning tea room. They only use locally sourced ingredients and always bake the creative desserts and pastries in-house.
Walking into the Gryphon Tea Room you are transformed back in time to an early 1900s library. Old books surround the walls and the original Tiffany light fixtures and stain glass windows remain well preserved inside the building. Of course this was more of a romantic trip so my love David and I started the morning off with a refreshing beverage. For him the Atlanta Peach; peach nectar, fresh lime juice and ginger infused sparkling water. For me the Ooh La Lacoste; Harney & Sons earl grey tea, lavender, vanilla and steamed milk. Are we surprised I picked something earl grey? Absolutely not. For lunch David had the Gulf Coast Shrimp and Grits with creamy smoked gouda stone-ground grits, tomatoes, green onions and chopped bacon. I believe the dish really needed some sort of sauce as it was dry and slightly on the bland side. I went for a lighter dish and had a small sandwich with smoked salmon, cream cheese, avocado, applewood smoked bacon, tomato and greens served on multigrain. The real showstopper was the amazing homemade dessert, created by the long-time pastry chef who works in the basement; so mysterious! We shared their earl grey cream puff (that tasted more like pound cake stuffed with earl grey cream) with lavender ice cream and lemon cream. This end to the meal really left a good taste in my mother (HA no pun intended).
What makes this tea room very special is you can order a high tea with their daily selected loose leaf teas. This consists of fresh fruit, finger sandwiches, fresh pastries, chocolates and petit fois. This was my second time at the Gryphon and it did not disappoint!
2. The Original Crab Shack (On Tybee Island)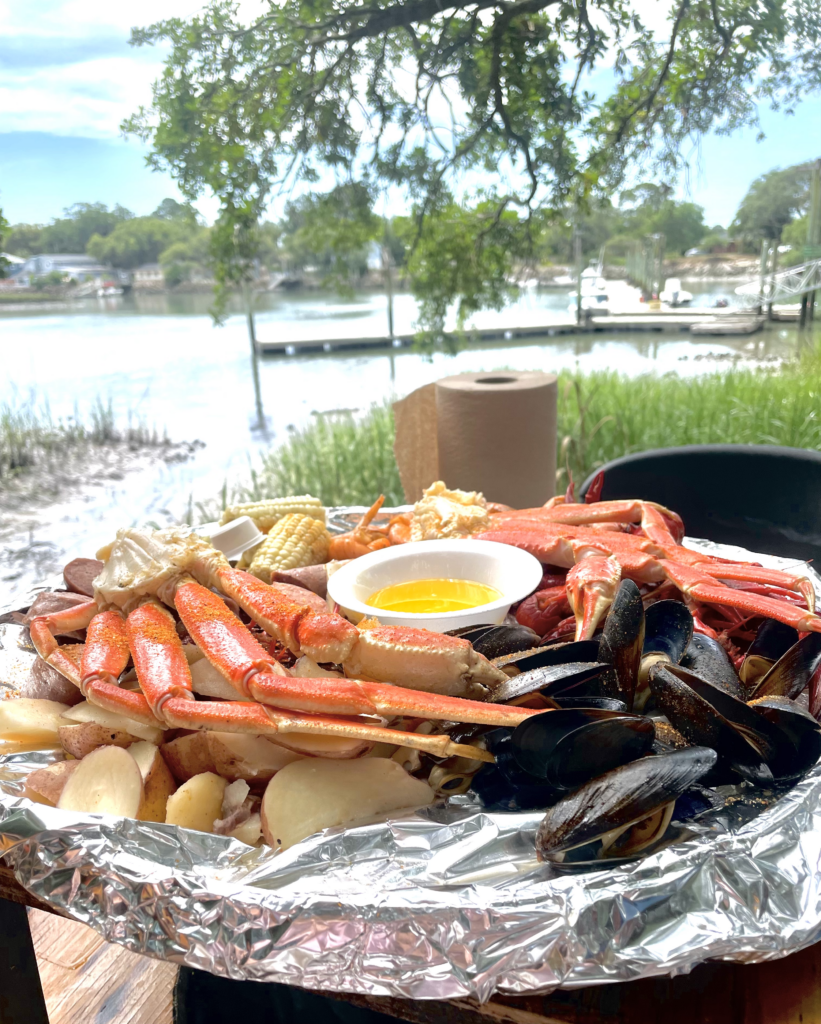 This was actually David and I's favorite place to eat in Savannah believe it or not. Originally the shack was a fish camp established in the 1930s. In 1983 a couple moved from Atlanta to Tybee in search of a quieter and happier life. They bought a fish camp marina and decided to start running fishing charters. The location actually did not start as a restaurant but just as hang out with good food and drinks. The word grew about the amazing seafood and more and more people began to show up. This tiny shack of a restaurant is mostly outside with views of the amazing sunsets. Cats roam the restaurant floors and an alligator habitat resides right outside the restaurant's front doors (I say doors but it doesn't really have doors). The atmosphere is that of an original shack fish camp but very family friendly. You can feed the alligators, take funny pictures, play games and even pet the cats. Unfortunately we came during low-tide which wasn't great for the nose.
We were sat directly by the water and attended to immediately. It being so hot we only drank water (I know, boring) but quickly out came our appetizer and entree. I should really say five entrees. We had two deviled crab claws; which really curved the craving for a crab cake; buttery and full of flavor. Then David and I shared this massive captains sampler platter for two. It was a circular platter with fresh melted butter directly in the middle. Surrounding was steamed shrimp, snow crab legs, mussels, crawfish (or crawdaddies), sausage, corn on the cob and potatoes. We managed to finish all of the seafood and only left a few potatoes, a few pieces of sausage and one corn on the cob - because the one food I really hate it corn.
3. Alligator Soul
Alligator Soul is one of the finer restaurants of Savannah and very difficult to find. The award winning restaurant can be found under the city in a cellar. It was once a grain warehouse in 1885 then renovated and founded by Chef Hilary and Maureen Craig in 2003. They only use the freshest ingredients from the region including fresh daily seafood and grass fed beef. What they were truly made famous for was their alligator; surprisingly one of the only restaurants in the city to serve alligator. Unfortunately we did not have a chance to visit this amazing place this short trip but last time I had come for a young birthday. My mother tried some of their amazing wines from their wine list and of course we tried the alligator. The best part that I remember was the dungeon-like atmosphere with dim lights and cold stone. Almost as if we were in a wine cellar or the catacombs... one or the other.
For the Chef, every day is a different journey. Not only do they announce the fresh fish served that evening but he also introduces other meats into the daily selection from Kangaroo, Ostrich, Game Birds or even Red Deer. Be careful, some of the dishes can get up to some very high price points but I think anything created by this chef is worth it.
4. Chocolate by Adam Turoni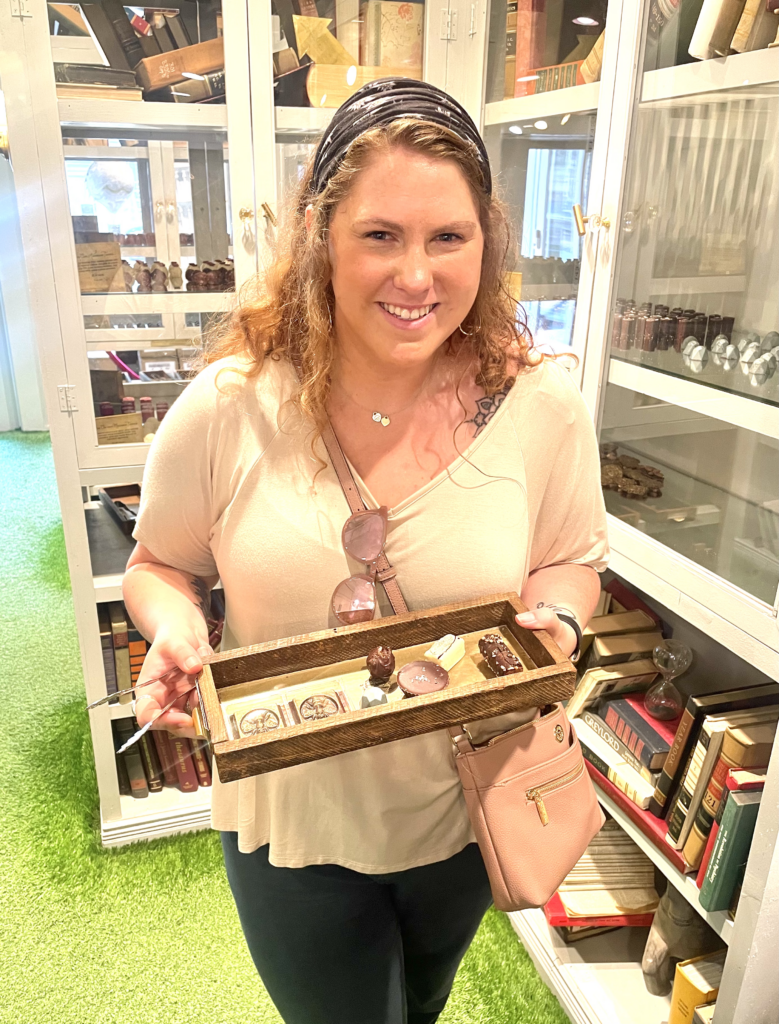 What a treat and a must see for any chocolate lovers passing through Savannah Georgia. With all great ideas they start with cocktails. Alexandra Trujillo de Taylor met Adam Turoni at a cocktail party in Austria although Adam is from Pennsylvania. He brought with him beautifully packaged chocolates that he had made himself. Alexandra was intrigued by this amazing talent Adam had, and after a few cocktails in 2011 Chocolate by Adam Turoni was born.
The shops are carefully designed to bring you back to that cocktail party in Austria. Old European sculptures and decorations and books. Perhaps the most incredible part about this experience is when picking the chocolates you are given a small wooden platter and little silver tongs, You must then open up antique glass armoires and select your chocolate yourself from all corners of the shop. What a cool and interactive concept that can get every chocolate lover excited.
Adam's flavors are unlike any other. He has a few staple flavors while always introducing new truffles due to the seasons and new found techniques. For Savannah his staple truffle is the Dark Chocolate Silk Filled Bullet, spray painted with an edible silver. He also has Honey bee truffles all year round; square dark chocolate truffles filled with Savannah Bee Company honey. As for the temporary flavors we had the dark chocolate peanut butter cup with sea salt, the cafe americano truffle, the lemon and mint truffle (my favorite; white chocolate lemon cream with a candied mint leaf on top!) and the Hazelnut Creme Piruli, We enjoyed these truffles with a coffee just a few doors down from their Library location (there are three in Savannah).
5. The Olde Pink House
I thought this restaurant was going to be one of the most overrated places in Savannah. Why? The Olde Pink House has been a restaurant and a staple on the Atlanta ghost tours for a very long time. They say it is one of the most haunted places in Savannah (which is saying something because most places in Savannah are very haunted). David and I decided to stop in for drinks after a long day of walking around and touring the Sorell-Weed House. We walked in and were lucky to get the last two seats at the bar in the back of the restaurant. The staff was excellent and walked us through the old halls of the house. Every room was a different bright and ridiculous color from lime green to an obnoxious blue. There was old decor, taxidermy animals and paintings everywhere. I did not expect anything overwhelmingly good.
The Olde Pink House has an amazingly long history, and I love ghost stories so I'll try to make this quick. The house was built for a great follower of the British crown, James Habersham in 1771. He was one of Savannah's most important cotton factors of that time and one of the wealthiest men in the city. He died there in 1799. He had quite a bit of beef with his sons which were hardcore followers and supporters of the American revolution. Some say they can see James eating and enjoying in his restaurant often. In 1812 the home became the first bank in Georgia. After the civil war the house changed owners and purposes many times until it became a restaurant in 1992.
We sat down and immediately got drinks. An in-house barreled bourbon for David and a dirty gin martini for me. he didn't care for the bourbon but our bartender really knocked one out of the park with his old fashioned. Of course I browsed the menu, after all it's in my nature. Everything sounded so incredible I needed to order something to snack on. We ordered the southern sushi; smoked shrimp and grits rolled in coconut crusted nori. Sushi and shrimp and grits, I will take one! It was salty and smoky, on the inside with the consistency of rice. The outside was almost like a coconut tempura on a bed of pickled radishes for a more sour flavor or almost a pallet cleanser. It makes me wish we had made reservations there for dinner. David got another old fashioned while the bartender made a special drink for me; gin, fresh raspberries and lemon. Needless to say, I ordered another one for the road.
6. The Grey
Unfortunately this trip we had a bitter-sweet trip to the Grey. You may know The Grey restaurant from the famous Netflix show: Chef's Table. After watching, the chef, Mashama Bailey, became one of my idols. She co-owns the restaurant and is true to her craft. My first experience at The Grey was nothing short of spectacular. I had the Chef's tasting and tried many cocktails as well as many glasses of their fine wine. Flavors were incredible, the atmosphere is historic and clean and the service was even better. I will never forget the amazing fois gras and grits topped with onion gravy. What an explosion of southern flavors all wrapped up in an elegant package.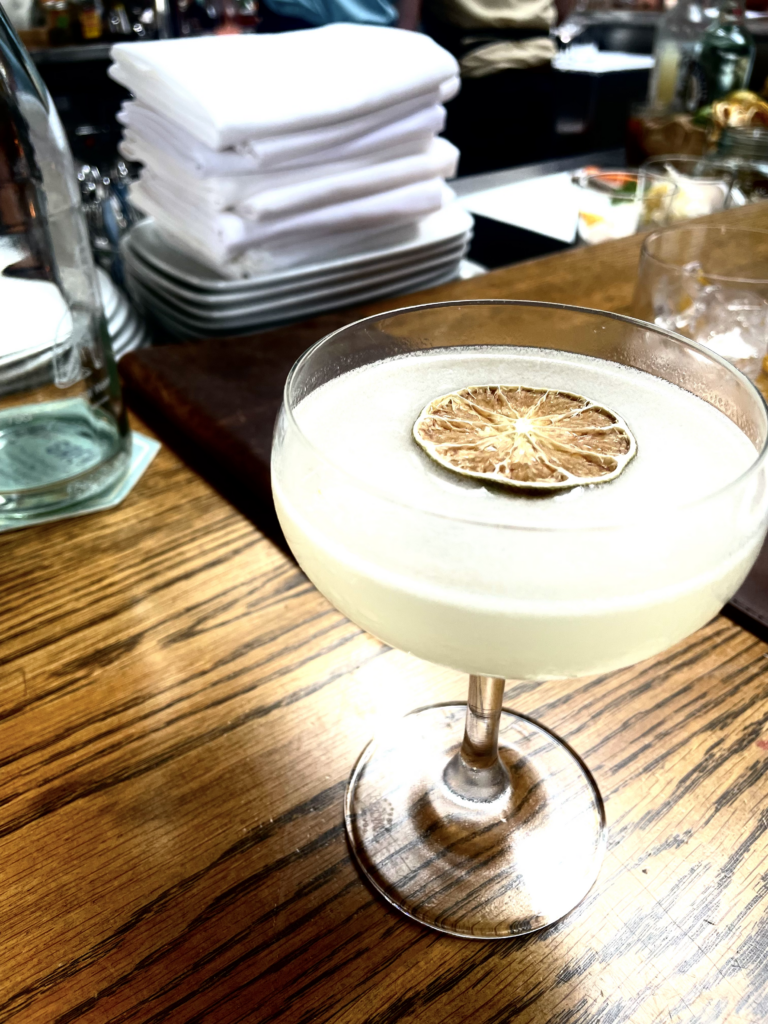 The Grey is actually a restaurant set in an old segregated bus station. Keeping the important elements of this historic sight, the owners brought a 1983 art deco style that in my opinion can never be outdated. The restaurant has clean lines and retro modern lighting with neon white accents above the in the skylight. Their color pallet is mostly neutral whites, grays and blacks naturally but has heavy blue and gold accents. Their bar is in the center of the dinning room and serves as a centerpiece.
The menu was set up similarly to the first time I visited. We sat up at the bar which I prefer for conversation, questions and drink watching. There was a four course menu that could be chosen from: Pasture, Water, Dirt and Pantry. This is set $75 per person with an option for a wine pairing. The only other option was the chef's tasting. Due to it being so incredible the last time, David and I splurged for this one being $150 per person (we did not do the wine tasting). I started with the Wildflowers Cocktail which was banana, egg whites, bourbon and almond foam (also their featured cocktail on their instagram) it was slightly underwhelming. There was no banana flavor and you always think with egg white you are getting more of a creamy cocktail which was not quite the case here. David had the Thorn in My Side which had rye, maraschino cherries, sherry, maple and bitters. This one was very good and we proceeded to give compliments to the bartender. Unfortunately they did not care to talk to us much this time. Even though the restaurant had just opened and it was slow the service seemed to truly fall short.
We started with the amuse bouche with a deviled egg, a pate and baguette and another small snack. Very good but not overwhelming with flavor, quite forgettable. Then an egg salad topped with asparagus and some sort of heavily salted meat - thicker than a prosciutto but similar flavor profile. Unfortunately the egg salad being heavily salted did not go very will with the meat as I had to eat them separately. The asparagus seemed not seasoned at all and quite close to raw. This was not a great second course for me. The next course was my absolute favorite our of all six. It was a deep fried sweet bread, buttery mashed potatoes and collard greens. How could you go wrong? Unfortunately David mentioned the fryer oil being a little burnt for the sweet bread but overall a solid and delicious third course. My next cocktail was the Octopus Garden which was gin, lime, honey dew, centum herbs and seltzer; also a miss for me quite sour and heavy. David's next drink was again quite good; the Gardenia which was rhum, cachaca, cardamom, lime and bitters. Quite creative.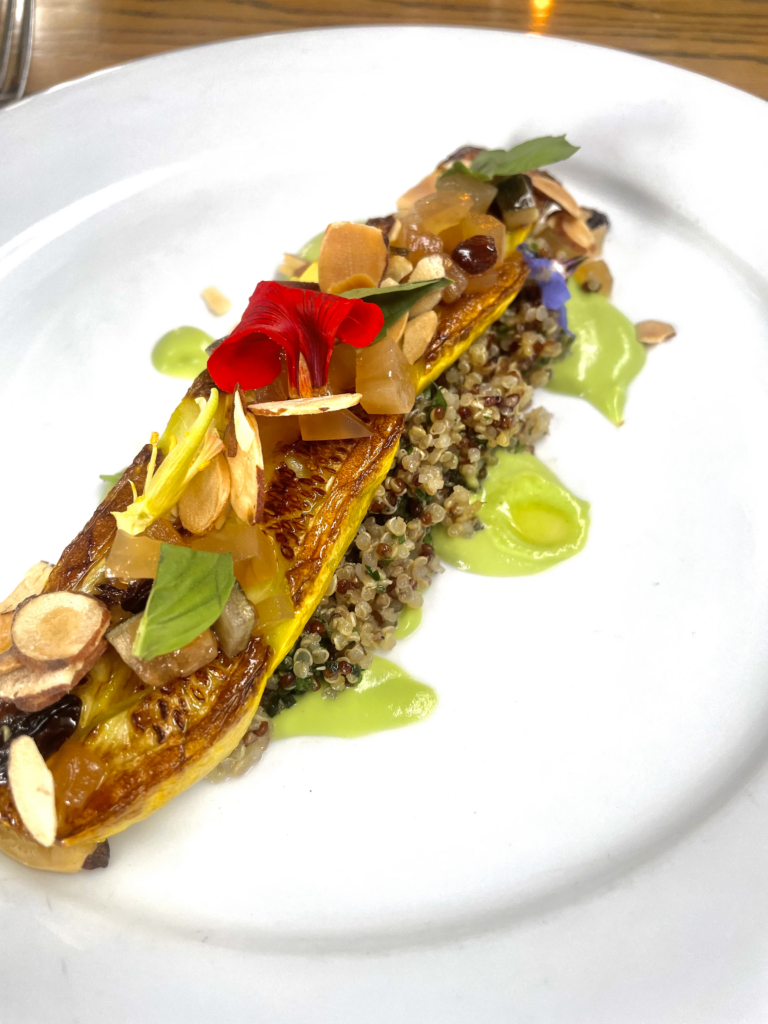 The fourth course was rather strange, I didn't hate but didn't love. I think this one was attempting to catch the attention of vegan eaters. It was a bed of seasoned quinoa topped with a large grilled slab of zucchini with almonds and a sweet fruit cubed on top. Possibly a melon? It was a sweet dish with some sort of cucumber creme fraiche on top, not exciting enough in my opinion. Next we had the white cheddar stone-ground grits with a non-spicy crawfish etouffee on top. This one was David's favorite however lacking in flavor for me as I wrongfully compared it to the fois gras and grits I had previously. The fifth course (which we waited about forty eight minutes for) was the scallops. Perfectly cooked in a delicious buttery broth of edamame and asparagus? Again? If I am doing a chefs tasting of quite this scale I really would prefer not to see the same staple ingredients for such small dishes. I will give mad props though, the scallops were everything I dreamed they would be.
Afterwards we got a small popsicle pallet cleanser (if you would like to know the significance of this you can watch The Grey's episode on Netflix). Our final course was a giant slab of spongey thick chocolate cake. I sure love chocolate but it was almost like due to the size of the previous courses they were trying to make you full with the dessert. It was served with candied oranges on top and a burnt orange gelato on the side. That gelato was incredible and I could have eaten an entire container. The cake however was quite dry when it made it to us and it seemed to not fit with the rest of the meal.
While I was in the restroom after our second course, David happened to stop a manager and ask her if Mashama Bailey could stop by and say hello as she was walking around talking to others. He explained that Chef Bailey was a great inspiration to me and that it would mean a lot for me to meet her. The manager then said of course I will let her know. Three hours later we left, quite hungry and unsatisfied. I didn't know about the interaction until later at the hotel but I never got to meet Chef Bailey. I was saddened to leave my favorite restaurant so disappointed and confused. I thought about this meal for truly the rest of the trip, even David had said my demeanor had changed. Maybe I took the meal a little too personally? Anyways I hope that if I return to the Grey my next experience will be a much better one. I recommend only the four course tasting for the price and portions are much larger.
7. The Paris Market
This extravagant little market and Savannah boutique resides in a 1874 old victorian building right in the heart of the city which used to be an old grocery store. It was restored and reopened by Paula and Teras Danyluk in 2001 as the Paris market where you can buy local candles, decor, jewelry and other Savannah goods. What is truly incredible is their wide selection of coffees, cafe beverages and fresh pastries. It is like walking right into a cafe in Paris. You will find in my journeys I love places that are able to capture you and bring you to a different place or a different time.
The design is that of Versaille with again the heavy light blue and gold accents. This is a cafe I would imagine Marie Antoinette to open if she was an entrepreneur. The petit cafe chairs and tables resemble french inspired decorum and really makes you wonder if you can eat a full meal off of one table.
Most food products are made in house however there are few local vendors with desserts and sweets for sale. They are all listed on their menu which is a great representation of other businesses. I tried a hot tea and a lemon bar on my last trip and even though I don't believe the lemon bar was made by the Paris Market it was so divine. This will definitely be a breakfast spot for my next visit to Savannah, this one is definitely not to be missed for a light breakfast or afternoon snack.