1. The City Bears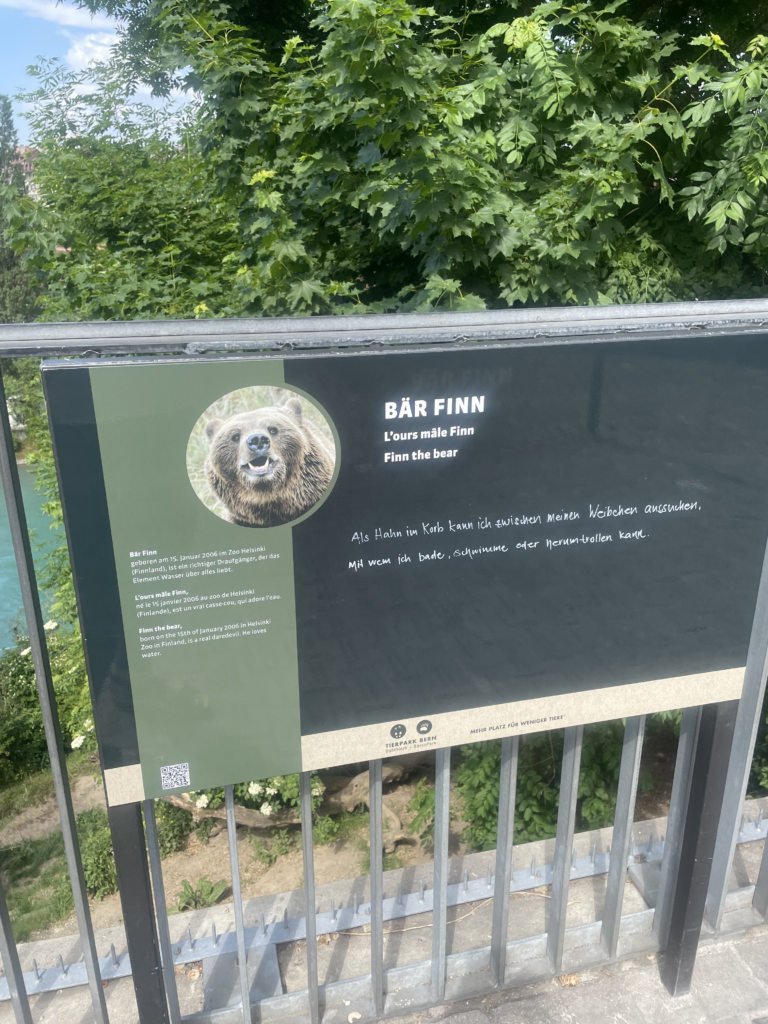 In the heart of Bern there is a new bear natural park that resides near the Aare river. Bears have lived in and around the city of Bern since 1513 while the enclosed exhibit has been around since 1857, and you can find it just below the Rosengarten which we will talk about as well. They are beloved creature here in Bern, almost the mascots if you will. I did not attend any official tours of the bear park which is offered in many different languages, but as soon as I had walked up to the pit overlooking the beautiful river and gardens across the way, I immediately saw a huge brown bear. The park is about 6,000 square meters down the river and a beautiful sight for both the bears and visitors of the city. I was able to see the brown bear "Finn" while he sits, scratches his arms then paces up and down the mountainous trail. To see the bears it is a free attraction unless you would like a more behind the scenes look and special tours.
History and Legend: It was said that Duke Berthold vowed to name his new city in 1191 after his first hunt and kill. This was of course the brown bear. The official seal of Bern is a black bear holding a white shield upright. In their culture, there also many German children's books based on the bears and the city of Bern. You can also briefly see the bear pit among the James Bond saga.
2. The Rosengarten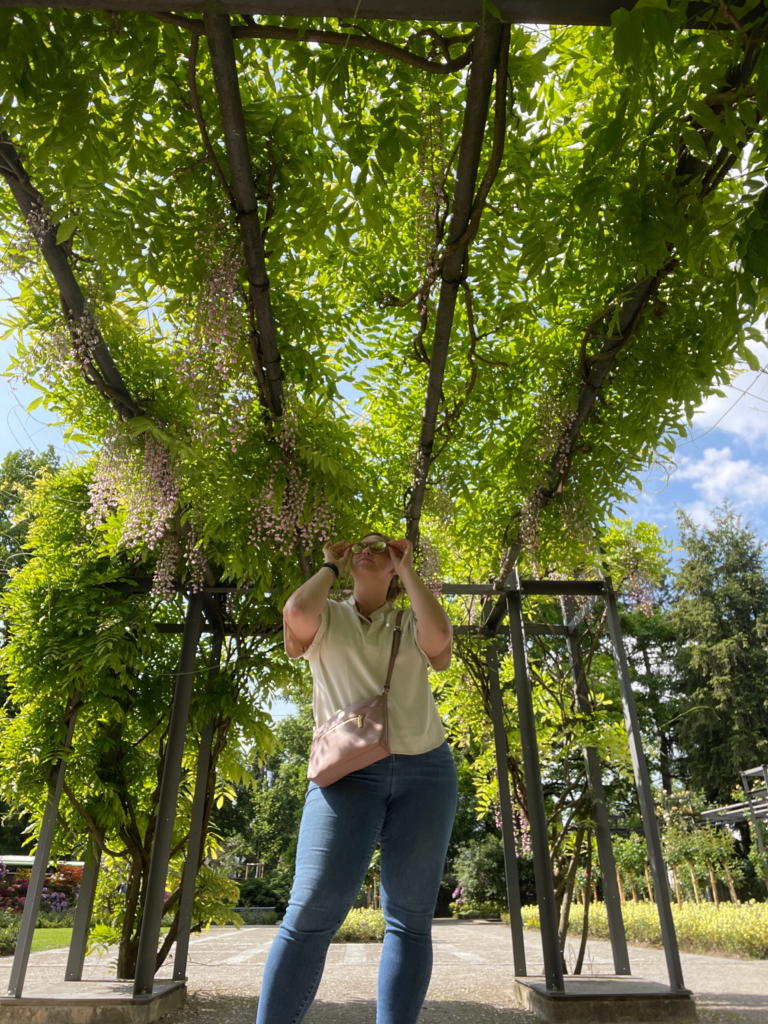 When I first arrived in Bern, I had asked a young girl about my age at the farmers' market; what is the best thing to see in Bern? She immediately replied without hesitation; Rosengarten. It was quite a walk to the other side of the city from the capital but first thing in the morning (about 8am) it was quiet and peaceful. I hiked up a long and very steep walkway following the rose garden signs. I got to the top to a small little garden with only a few charming rose bushes right next to a small modern cafe that overlooks the entire city. Charming, but is this it? I enjoyed the few bushed and took a few funny pictures. I decided then to sit down to breakfast and look at the city a while. It read in German; small breakfast or big breakfast. Okay? It's just me so I guess... small? Out came coffee, orange juice and a basket of bread with jellies and butter. A half a loaf, a croissant and a plain muffin. Then, I saw it the real rose garden, right behind the cafe.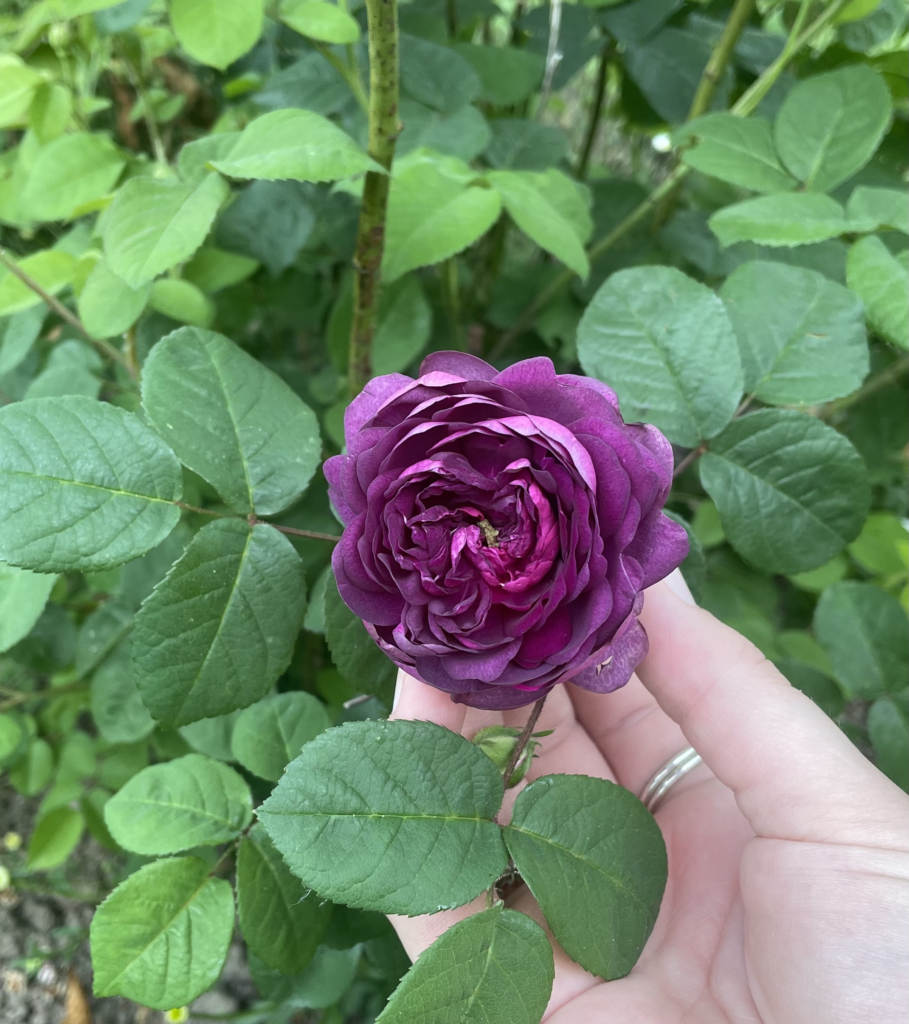 There was a beautiful and petit wedding going on in the garden. They had an old yellow Rolls Royce I believe for the sake of pictures, and it was just magnificent. When I finished my breakfast I made it a point to watch from a distance along with a few other spectators. Then I walked through the incredible gardens that were so well choreographed among the fountains and sculptures. Roses and flowers of all colors, then some hanging from the tops of the walkways draping down like curtains. There are over 400 different types of rose species in the garden as well as 28 different rhododendrons. There is also an enchanting water lily pond in the center that is truly great for photos. I didn't get any... darn it. It is a free and open recreational park for visitors and residents of Bern.
History and Legend: The Rose Garden actually served as a cemetery for the lower old town from 1765-1877. It took quite a bit of time to finish the actual park and it was finished in stages then by 1913.
3. Mt. Gurten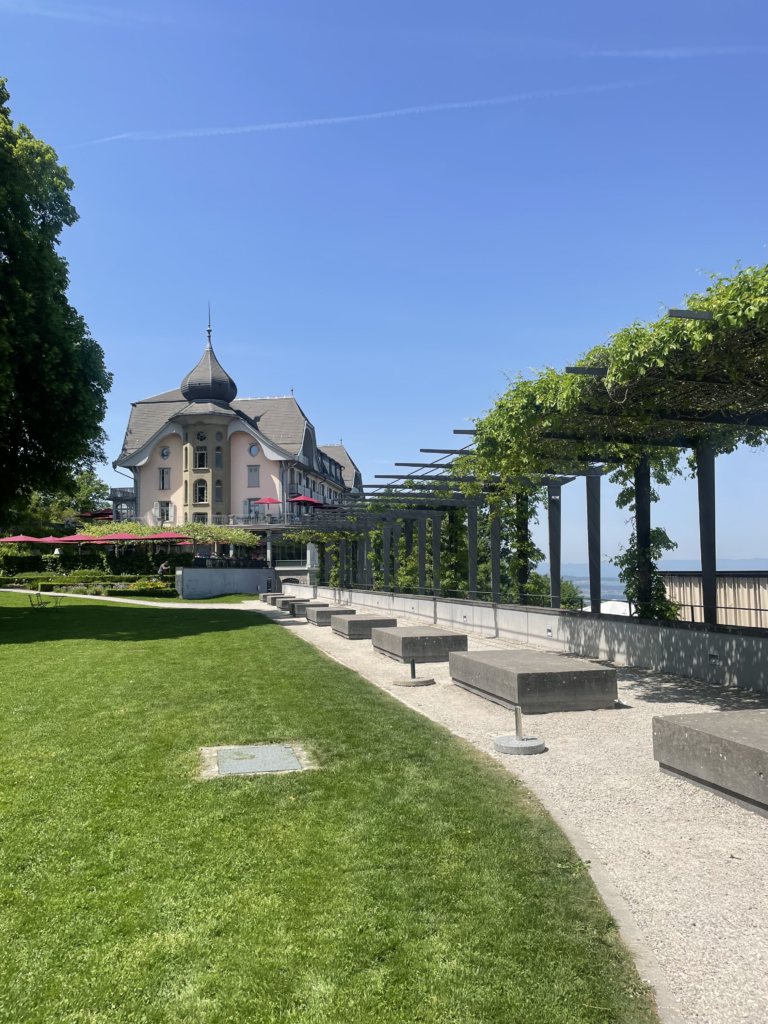 Eating lunch at a fabulous little cafe in town I thought: I have five more hours here. Let's see a mountain.
This attraction I actually had to take a city bus for. It really was no big deal, I paid 2.40 francs for a short trip ticket and took the number 9 bus to Wurden from the Bern bus station (quite close to the capital). I got off at the second to last stop at Gurten (only about a 10 minute ride) then aimlessly walked around not knowing where to go. The railway station for the Gurten Mountain was actually in front of my face the entire time and only about a four minute walk from the bus stop. Then it is 11.00 francs for a round trip ticket up the mountain. Fair enough. I had no idea what I was getting myself into. The train went up the steep mountain and the views weren't intense but only similar to the Rose Garden where you could see the old town.
I then got off of the train at the top. I swear that this must be what heaven looks like. As far as I could see it was all right green fields of grass and even a small mountain coaster. I looked at the signs around the station and saw many hiking trails, lookout points, attractions for kids and then even a hotel, event spaces, a restaurant and a coffee shop. Everything was so clean and bright, it was truly paradise. I wish I hadn't have eaten lunch yet.
I walked around to see the mountain coaster, then hiked around the entire nature park only to arrive at the most beautiful views of the Swiss Alps. Below was a farmer bailing his hay on his golden fields with a brand new Fendt (my dad makes those tractors ha) and above the beautiful snow capped mountains just steal the show. I sat on the phone with David while I gaucked at God's magnificent creation before me. It truly felt like heaven.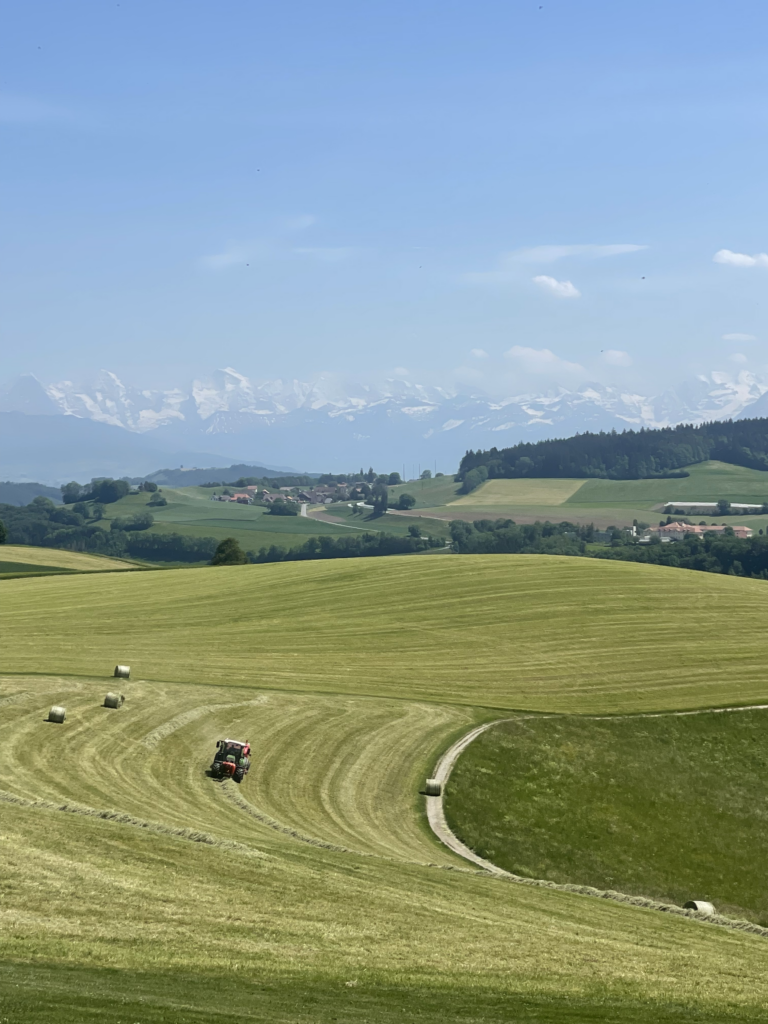 History and Legend: In the 6th century Gurten was actually served as a watch tower. In 1393 Gurten actually saved the city of Bern as it was going through a water shortage. Drilling through Gurten they were able to fill up the city's fountains. During this time they has also planted vines for wine on the side of Gurten. In 1889 the first restaurant opened on Gurten which was as close to fine dinning you can get. Then Bern's largest children's' playground was then built for a more family-friendly feel. In 1902 Switzerland's first ski race was held on the Gurten and it now well known for its sports recreation even in winter time.
FUN FACT: If you stay at any hotel within the city of Bern you get a complimentary bus ticket that is unlimited during your stay.
4. Bern Markets
While I was in Bern, I was very lucky to have been apart of one their nature park markets where many farmers and local food producers all meet to show and sell their products. I was told that it was for promotional purposes mostly however everyone seemed to sell and do well. Markus, the winemaker I happen to be staying with wasn't necessarily showing his wine but his alcohol free schorle which is like a well made grape juice than can be drank alone, mixed with wine, water or even other alcoholic beverages.
At the market there was an array of fresh flowers and bouquets, vegitables, fruits, honey, cheese, meats, wine, juices all from the famous areas of Switzerland. They had live music, displays and games set up for the entire family. They hold these farmers' markets weekly and sometimes you will see the same vendors and sometimes not. Other markets are even bigger than others. Many of the markets are help in either Parliament Square or Bear Square, these are not to be missed every Tuesday and Saturday.
5. Berner Munster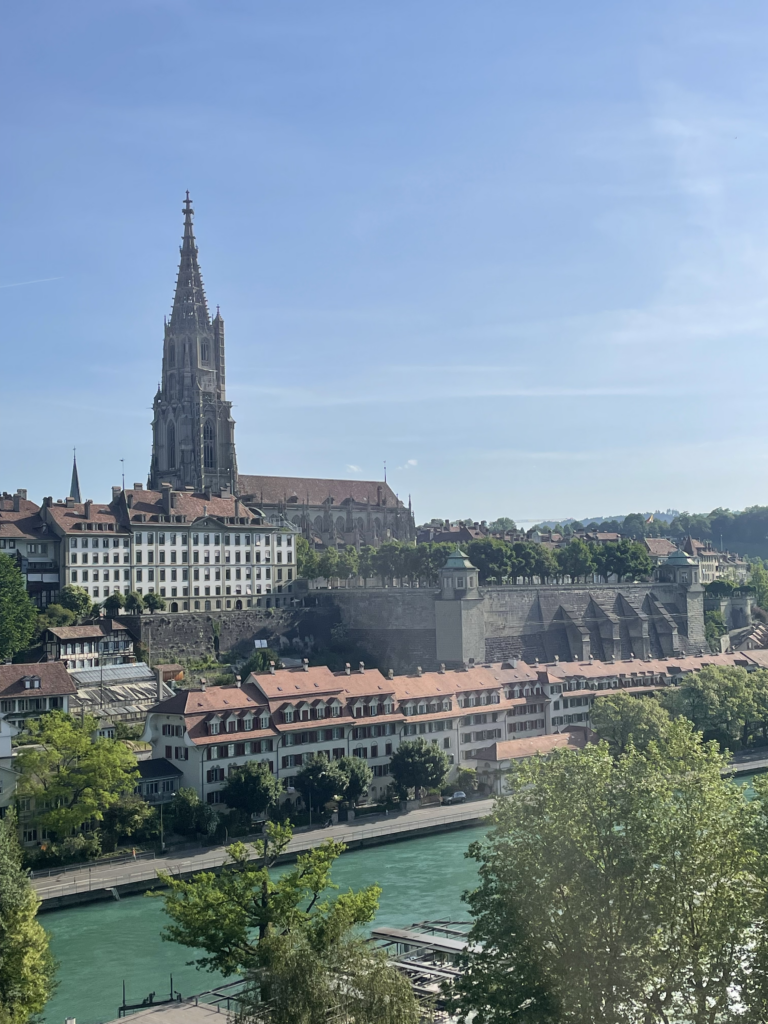 I don't know a lot about major cathedrals even though I have seen and been in many. All I know is that I love going in and admiring the old stain glass, the artwork, the sculptures and even reading on some of the history. Usually I will walk around and read everything I can in English, then I usually light a candle for a loved one, sit down and say a long prayer. Something very thankful. Before I leave I try to make it a point to decipher the stories that can be found within the stain glass, you can even read about it on your phone and it is like following a story. Give this a try next time you are at a cathedral. My favorite part of this particular church was the outter gardens that overlook the amazing river and Swiss Alps. Just like a fairy tale with beautiful green grass, flowers and even a library and coffee shop. The entrance for me was free and they opened at 10am.
History and Legend: The construction of this most famous catherdral strated in 1421 but the 100.6 meter tower was only finished in 1893 and it is currently the tallest cathedral in Switzerland. Talk about a delayed project. There was an earlier cathedral build but it was destroyed by an earthquake in 1356. Believe it or not many of the Altars within the church are funded by the local families of Bern.
6. Swiss Capital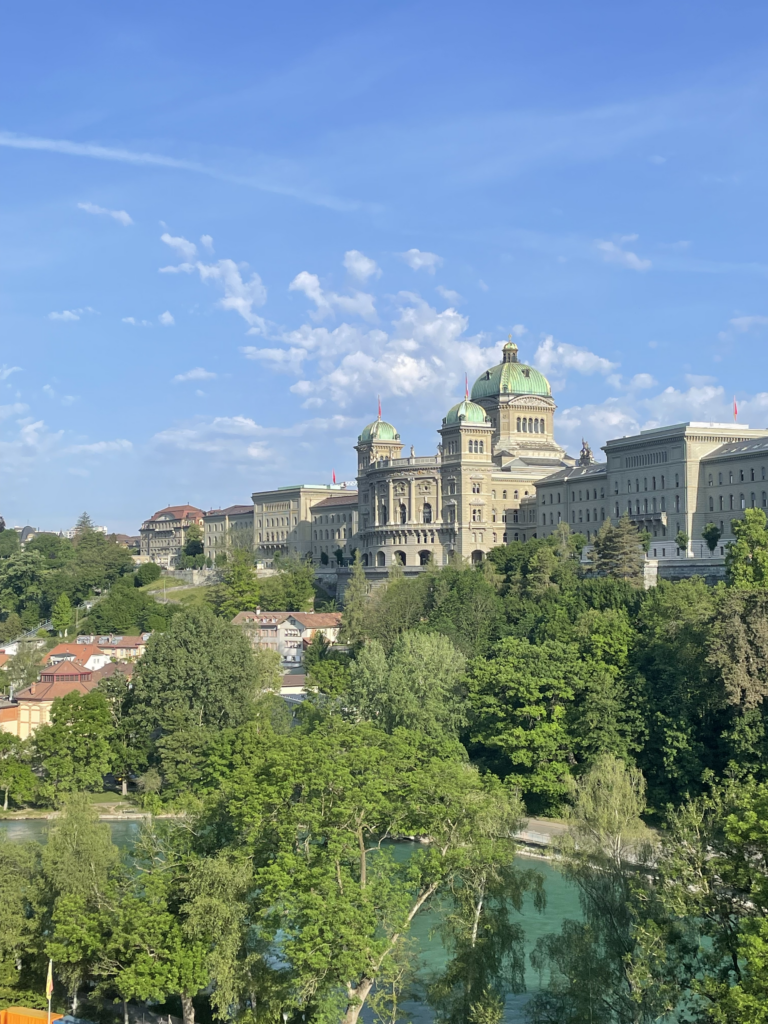 Bern was named Switzerland's capital city about 170 years ago. Interestingly enough Bern is actually only the 5th largest city in Switzerland despite it being the capital. The capital building is beautiful overlooking the Aare river as well as the castle-like Bern natural history museum and Swiss Alps. Its home resides right next to the Swiss National Bank which I thought was incredibly interesting. The building itself has many old sculptures and statues as well as many gold accents with a large capital dome on top. You can visit this any time of day and I highly suggest to walk around the building to see its amazing views however if you decide to go inside there are only certain times and there is maximum security, similar to going into the airport.
Funny enough Zurich is actually Switzerland's biggest city and their economic powerhouse. Politicians did not want to give too much power to the city as balance was very important to them so in 1848 Bern was officially names the capital city.
7. Laderach Chocolate Shop
I was grateful that I ran into this little gourmet chocolate shop right before I left. I hadn't had anything sweet all day so I needed just a little chocolate to curve the craving. After walking by at least 50 bakeries and chocolate shops that day I really struggled to find something I really wanted. A pastry? Maybe. A bit of gelato? Maybe. All I knew for sure is that I wanted chocolate. (Wow shocker for me) On my way back to the market to meet Markus close to the capital I walked by Laderach. This beautiful window display of just giant bars of chocolate bigger than my chest sat open and stacked one on top of the other. It was a sign from the universe that this was where I was meant to be.
When I arrived I didn't really go up to the counters (I was exhausted and really feared to speak German and fail) so I avoided people all together. I grabbed the first delicious thing I saw; silk filled chocolate buttons. Just a small bad to curb the craving and I walked up to the cashier and set them down. "Das ist alles" I said (that is everything) and he asked me something else. I just said that my german wasn't good and that I was sorry. He responded in English; That's okay my German wasn't very good either. We talked for a good few minutes about him coming from a very dangerous place in Africa, he was happy to be living here in Switzerland. After our chat he offered me six free samples of the amazing chocolate from the case; dark chocolate blackberry, blueberry, white chocolate, chocolate and peach - I can't even remember the rest. This small kindness I believe will always stick with me. Even though this was just chocolate, the thought went a long way.
History and Legend: Laderach was founded by a man in the Alps, in a very small town in Switzerland in 1962. In 1970 he patents a special truffle making process that many chocolate makers use today; it was the manufacturing of hollow chocolate balls with thin walls for filling. In 2004 they adopted a very important business model in which they are similar to a cheese counter but for chocolate. In 2018 Paris the original founder's eldest grandson wins the Chocolate Master finals in Paris for two of his magnificent creations. You can now get these at any of their chocolate stores here in Switzerland. I wish I would have known that earlier and I would have picked an award winning chocolate.
FUN FACT: Toblerone bars actually come from the city of Bern.