March of 2022 was my first opportunity to visit the beautiful state of Hawaii; the island of Oahu to be exact. I had decided to visit my childhood friend Ellie who goes to the University of Honolulu. I got the local tour of Hawaii staying in a 300 sqft studio apartment, eating at the local hole in the walls and visiting the non-crowded local beaches. If you are not into the tourist vacations, I highly suggest taking more of a local approach to a new place. I believe you meet cooler people, see unusual things and the best part: eat the most amazing food.
1. Poke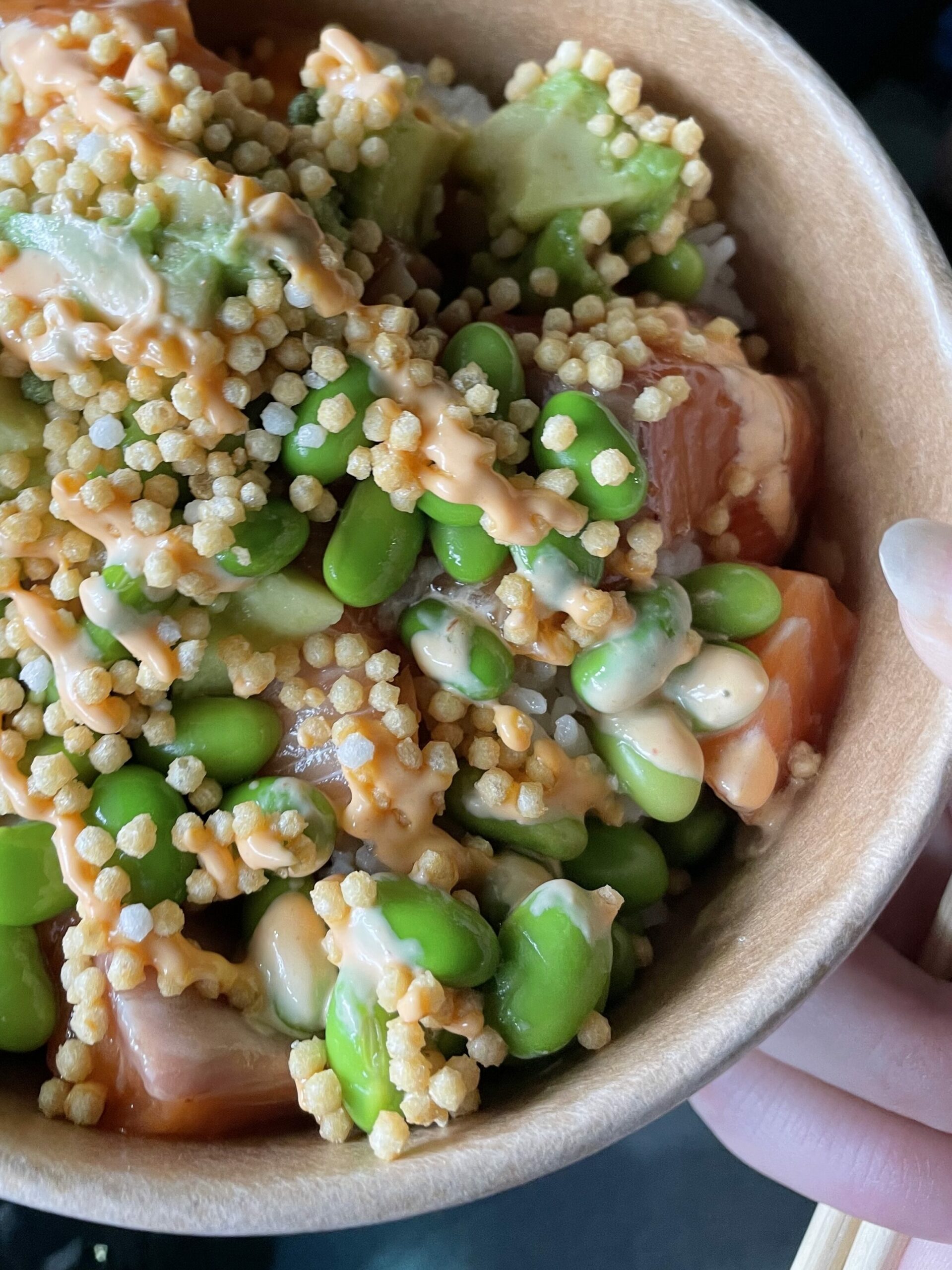 Due to the fact that Hawaii is a cluster of Islands in the middle of the ocean and the farthest island from any other large land masses; their seafood is unlike any other. No doubt Hawaii is famous for their amazing Poke bowls which is definitely one of my favorites.
In Oahu they sell poke bowls on every street corner. Sketchy small places, fancy places, beach side restaurants, grocery stores, even gas stations. Poke is served almost everywhere I went. Dream come true for me. From the seafood to the avocados everything is unbelievably fresh. I am reluctant to have another bowl here in Atlanta because I'm afraid I would be a little disappointed!
My first night arriving, Ellie and I immediately went to the beach. We walked down the sand and watched the sunset. In our stroll we came across a small beach cafe with some of the best poke in town according to Ellie. Honestly, there was nothing I wanted more! Luckily even with their long dinner line they hadn't run out of poke yet. We had mango smoothies and ate by the water. A simple poke dish with two small scoops of rice, basic tuna, green onion, massago and spicy mayo. The simplicity was divine. Incredible first meal? Absolutely.
One of the only dishes I had twice during my stay; on the last day before our chocolate tour (which I will get to soon) we stopped at a local small grocery store where you could build your own poke bowl; Foodland Farms. This one was definitely spicier but bigger and much bolder. I had fresh salmon this time with edamame, fresh avocado, rice puffs and spicy mayo on a bed of warm white rice. This bowl was closer to something I would get at home so it set the bar incredibly high for my next poke bowl experience.
2. Smoothie Bowls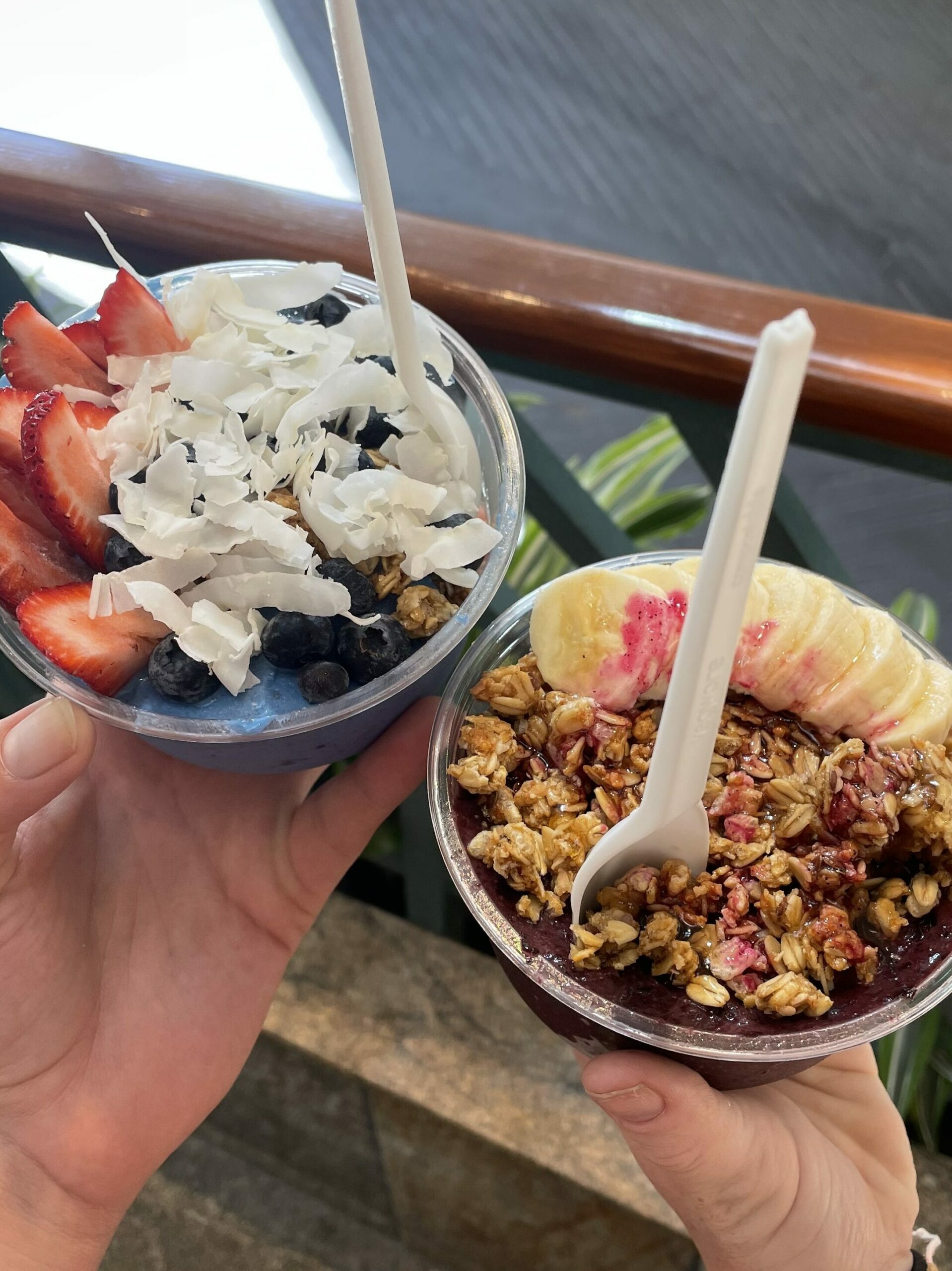 Alright, acai and smoothie bowls are hit or miss for me. I am more of a chocolate fan anyhow and smoothie bowls are not something I usually seek. Seeing as Hawaii is famous for them of course I had to give them a try. They are also extremely healthy and filling. They used so many ingredients and like poke bowls you could find them on every corner. Some used matcha, spurilina, macadamia nut butter, fresh fruit, coconut, cocoa nibs, granola and even more.
I think the reason I enjoyed the smoothie bowls so much is the flavors of the fresh ingredients used. There are so many amazing exotic fruits grown in Hawaii that are used in these bowls. Pineapples (actually native to South America), Mangos, Avocados, Coconuts, Apple Bananas, Lychees, Papayas and more. Those fresh mangos and pineapples really made all the difference to me.
My first bowl (yes I also had two of those) was a mix of apple bananas, spirulina, star fruit, coconut water, blueberries and strawberries on top from Sunrise Shack.
Spirulina is actually a supplement, considered a superfood similar to matcha. It comes in pill or powdered form and it is extremely high in many nutrients, actually one of the most nutrient dense foods on earth. It is technically a type of blue algae that grows in both salt water and fresh water. Even through processing it has the most amazing and rich blue color.
This dish truly knocked my socks off and I would eat one every morning if I could. The second bowl was blended with matcha, cocoa, macadamia nut butter, apple bananas, coconut, granola and chia seeds, also from Sunrise Shack. It was definitely heavier but I really couldn't tell you which one I enjoyed more.
In Hawaii "Aloha" is actually used for Hello and Goodbye
3. 7/11 Gas Station Sushi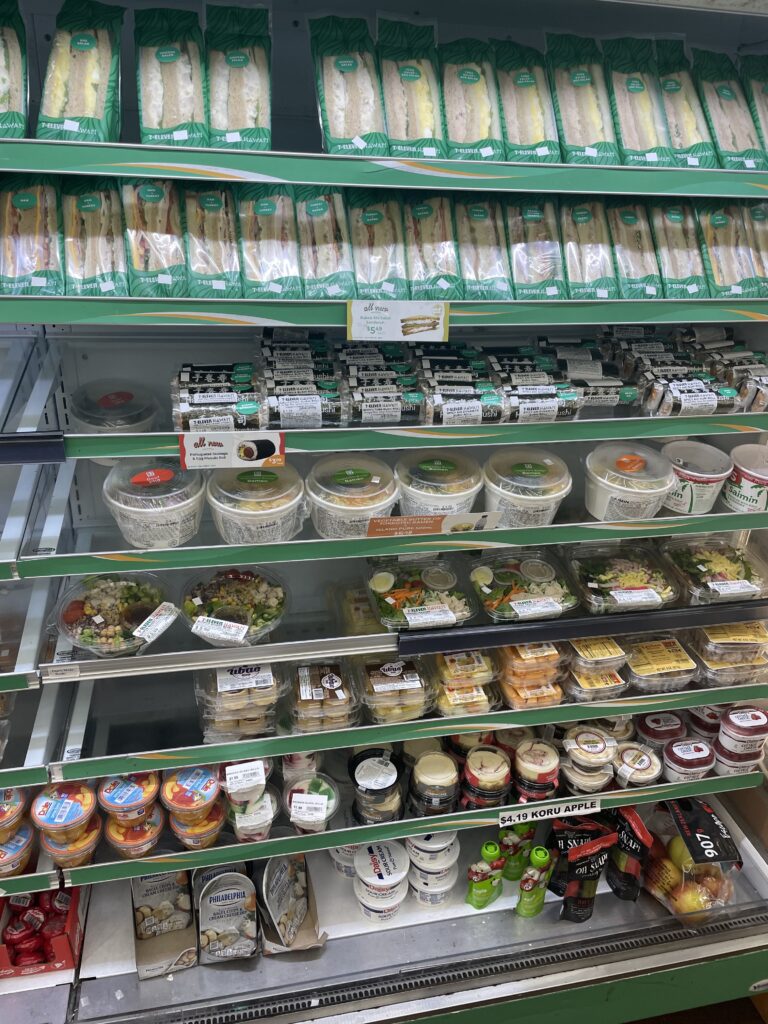 I won't lie to you, I was surprised and a little grossed out as you might be reading this now. Gas station sushi rolls and poke bowls? I wouldn't think so, but this is just one of those things you must try when you're in Hawaii. So many of the locals swear by 7/11's famous sushi, rice bowls or spam musubi (similar to a sweet spam nigiri). Not only is this interesting but cheap! The small grab-and-go sushi rolls are only $1.69! What?!
Like I had described with poke bowls, the array of fresh seafood and ingredients make it easier to keep and store these kind of snacks safely. Not only this but because of how frequent these items fly off the shelves, they keep them in constant rotation.
Hawaii's number one fresh fish is Ahi referring to two types of tuna; yellowfin and bigeye. They also serve a great bit of Mahi Mahi, Moonfish, and Hapu'upu'u (the hawaiian name for sea bass or grouper).
The State Fish of Hawaii is a Humuhumunukunukuapuaa (who-moo-new-coo-new-coo-ah-poo-ah-ah)
4. Mango Sticky Rice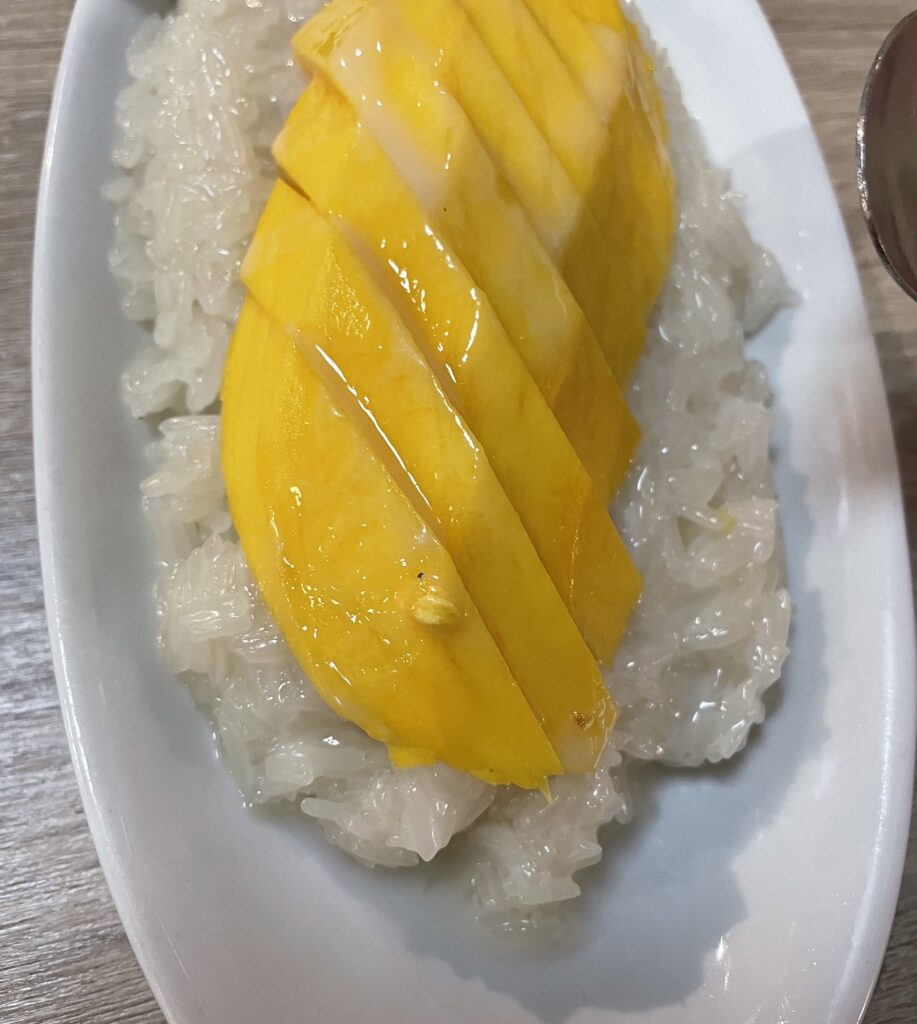 I was so excited to try this in Hawaii. This is something else I also had twice but completely on accident both times. The first time was actually at a small farmers market. A baker was selling many fresh coconut pastries, donuts, fresh fruit and some amazing mango sticky rice. I had seen it on food blogs before, even on instagram but never in person. They served the sweet coconut cream on the side I guess to keep it fresh and not soggy. This dish would be a dessert I could have every day (which says a lot because as you know about me I am a chocolate fan).
This is a traditional Southeast Asian dessert usually eaten with a spoon or with your hands even. It is commonly made with fresh mango, white rice, tapioca starch, coconut milk and sugar, then topped with sesame seeds.
My second time was in a small Thai kitchen that was even difficult to spot from the street, Thai Isaan Waikiki. there were only locals there and I didn't plan on getting dessert. I enjoyed an amazing Massaman coconut curry with tofu then saw the mango sticky rice on the menu. It was my last night and of course I had to have it.
5. Homemade Udon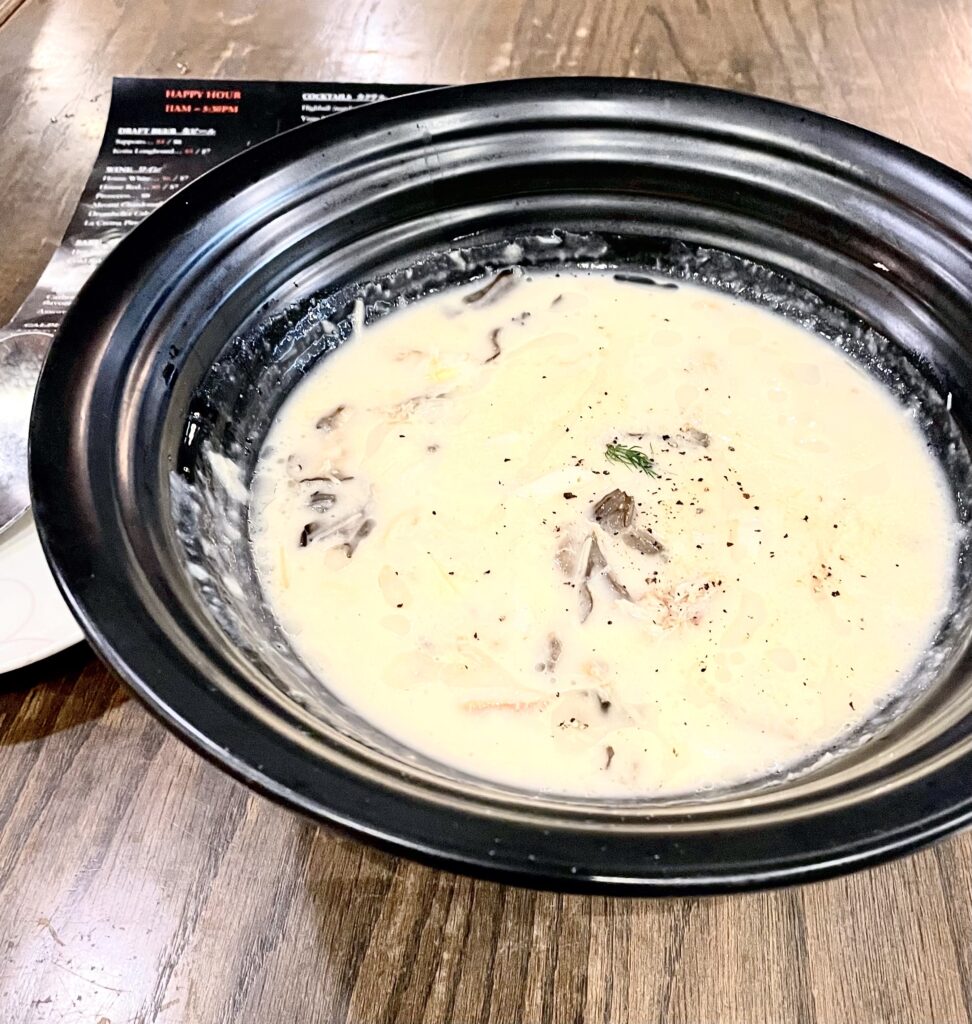 I only ate this dish once but it was unlike anything I've ever had. Of course you can get udon everywhere, but can you get homemade udon everywhere? Hawaii had so many amazing influences from South American and Asian countries their cuisine was different a diverse. A great example was this over-the-top, bigger than my head bowl of udon noodles with crab, cream and fresh truffle. Excuse me? Truffle? Cream? Noodles? Seafood? Count me in.
Surprisingly it wasn't a heavy dish but a comforting one. The noodles were huge and soft just soaking in the cream broth. Ellie and I went to eat this after an exhausting day of walking in the city (oh so exhausting) right before she went to her shift at work. We passed a few udon places on the way but she was determined to go to this particular place; Tsurutontan Waikiki. I wish we had one just like it in Atlanta.
6. Hawaiian Chocolate
During my last day in town, Ellie, her friend Kylie and I took a trip to the other side of the island passing through jungle and fog to Kailua for a chocolate tasting and tour. We entered a small building that looked similar to a classy cafe with a bar right in the middle. Manoa was founded by Dylan Butterbaugh, an Oahu native who now grows cocoa beans in his back yard. I related to Dylan of course as a college student starting a business and he was there working in his factory while we were there!
We took a small tour through the room and tested out some fresh cocoa nibs. they had even brewed the shells into a tea that smelt like hot chocolate, YUM. They explained the chocolate making process and the growing process in Hawaii. We learned that Hawaii is the only state in the united states with the appropriate climate and humidity all year round for growing cocoa trees.
The chocolate was truly remarkable. They come out with a different flavors every month to match the freshness of the products and the holidays year round. We tried their passionfruit, banana, coconut, goat milk, mango, coffee and sea salt flavors. Goats milk was my favorite and probably the strangest flavor they offer. They offer a selection of bars that are also 100% Hawaii grown cocoa beans, of course these are more expensive, but worth every bite. Each bar retails about $10.50 a bar, so be selective!
7. Coffee & Pastries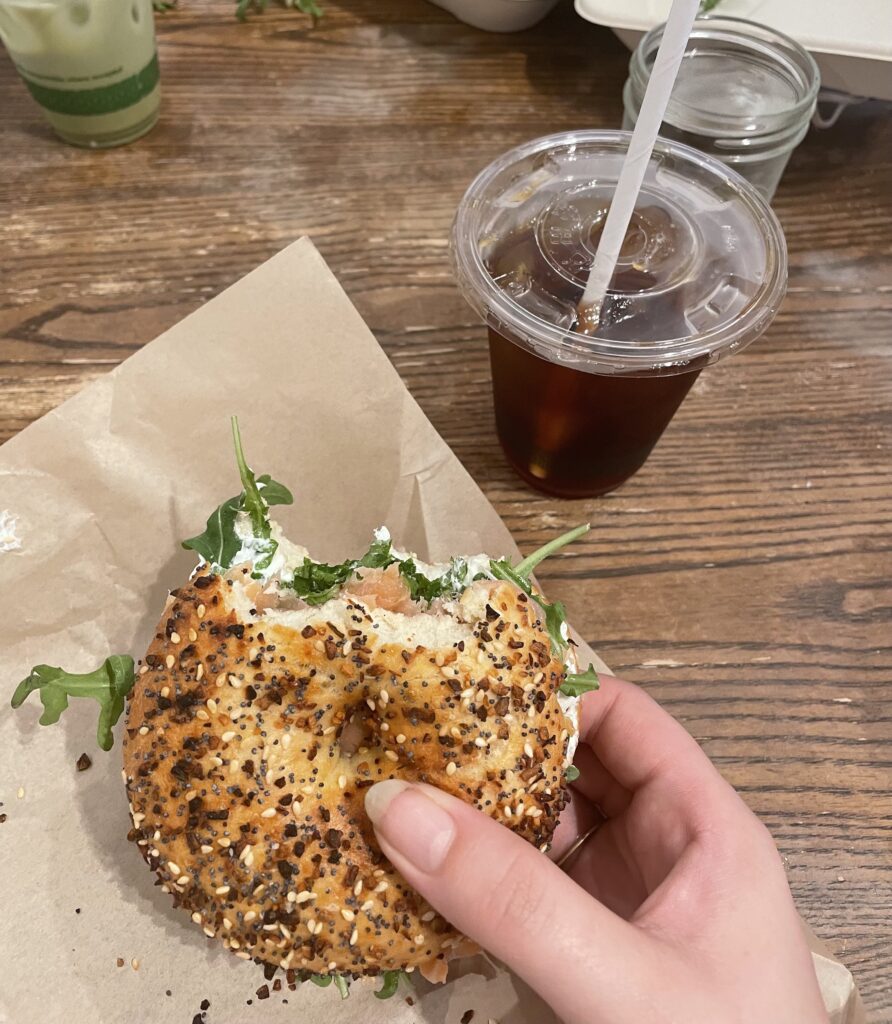 Oh this is my favorite part, let's talk coffee. TRS Coffee was my first coffee shop I visited near the university. Ellie decided to take me for their vintage furniture and minimalist shop design. The art on the walls was strictly black and white with bright red pops and accents. The light fixtures were vintage copper while the furniture and floor were a dark oak wood. I was in love. Not only was the coffee shop beautiful and classy but the cold brew was smooth and bold. They didn't use a lot of ice which I appreciated and the caffeine high was perfect for a small cold brew. For breakfast: a fresh everything bagel with cream cheese, arugula and smoked salmon.
Our second coffee shop was a retro diner-like shop with neon lights, funky colored light bulbs and even a sun room off to the side called coffee talk. I had a tumeric honey latte (not my usually coffee fix but it was fine) and Ellie had a delicious out milk almond latte which is something she had raved about for weeks. What really stole the show for me was the mushroom quiche that is freshly baked in house. I really needed a protein boost for the afternoon and it was the perfect snack. Ellie and I enjoyed our coffee and talked for hours about boys, politics and social issues. We truly had such a nice time here and it will always have a special place in my heart for the time I was able to share with a friend.
My next coffee shop adventure included an iced super charge coffee... what? Me the coffee expert not knowing what super charged coffee is? I was embarrassed but hey you learn something new every day. Super charged coffee is similar to a cold brew with 20% more caffeine content in which they add green coffee extract to give you the extra boost. I drank mine how Ellie orders hers every day which is with light cream and raw sugar. Believe it or not this was my favorite experience of the trip. Smooth and sweet it truly was the perfect ice coffee.
Honorable mention: The smooth loaf of Hawaiian banana bread Ellie and I shared at the beach.