For the last three weeks I have been honored to stay and work at Besen-Beiz, learning from the farmer himself (Markus) and the restaurant owner Susanne. They run a sustainable and passionate operation for food and wellness in the north east region of beautiful Switzerland. Right below Schaffhausen and just above Zurich, Besen-Beiz is truly one of a kind. You can enjoy traditional Swiss Racklette, fondue, wursts and wine underneath the beautiful grape vines grown there while listening to the bells of the Swiss cows and the baby goats at play.
"Through a sustainable and ecological way of working, we are able to create optimal foundations for flora and fauna in order to be able to offer our guests natural products of the highest quality." Susanne & Markus Simmler
1. Everything Eaten in the Restaurant is from the Region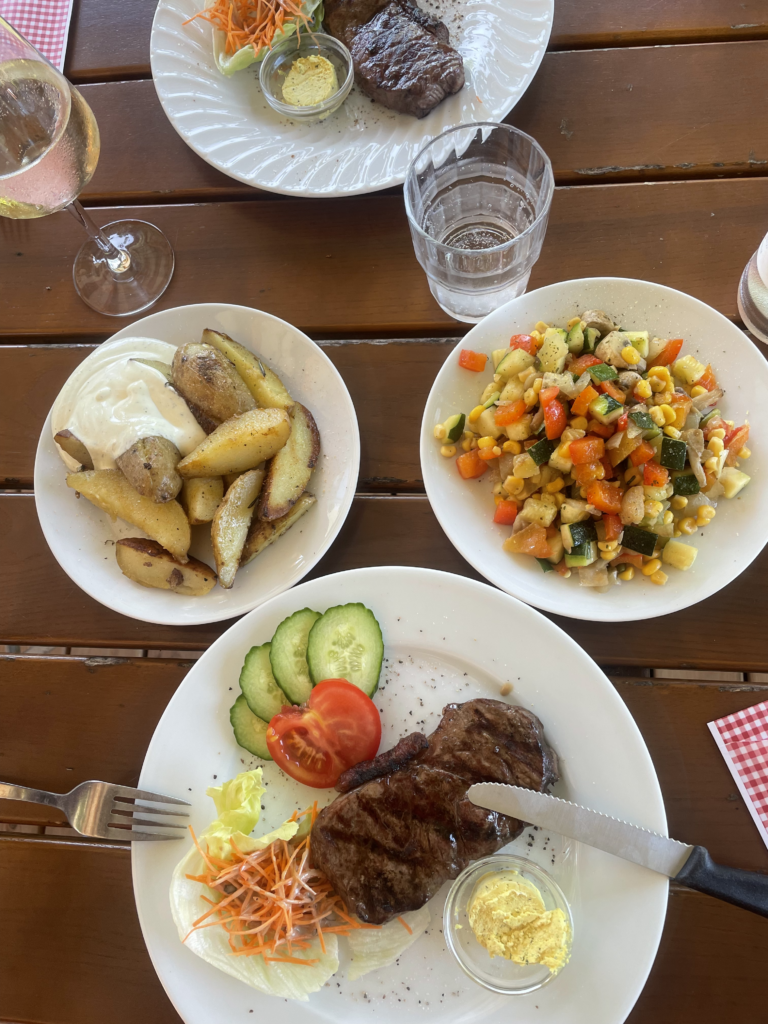 From the cheese, bread, meats and veggies all of the food served at the Besen-Beiz restaurant comes from the north east region of beautiful Switzerland. They also run a shop just above the restaurant that is casually open every day where you can buy these amazing and fresh products. Susan Simmler, the owner and full time operator of Besen-Beiz, only believes in the most high quality and non-processed products. She is a true gem and I highly encourage having a conversation with her during your visit.
The meat comes from right there on the property. Twenty of the finest grass fed cows are kept on property until they take the journey through the circle of life. All of the beef that comes from the restaurant was actually raised right there on property. The cheese comes from the Hopfengut Stammheim and the Henggart Cheese Dairy. They also use locally roasted coffee (which I love) from Henaur Kaffee, Tea from Hori Company in Thayngen, fresh flour from the Oberembrach Mill, fresh pasta and oils from the Wagis Farm and trail mixes made in Lucerene.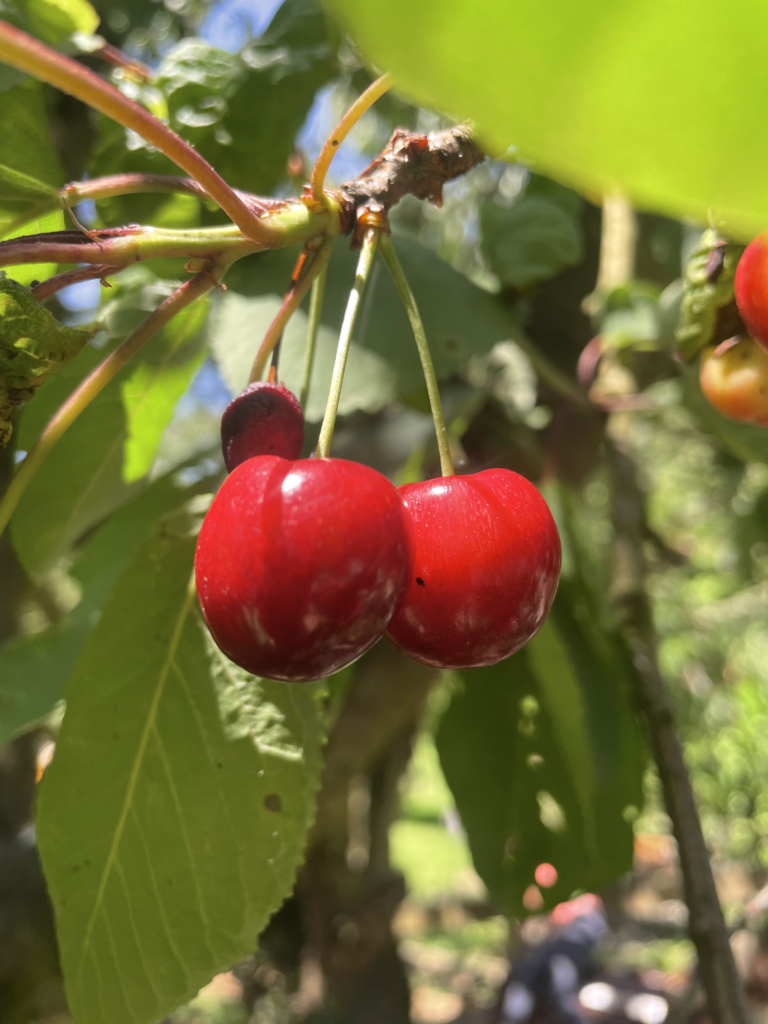 During my time here I was also privileged to watch fresh bread, desserts and vegetables come every day for restaurant service. Besen-Beiz has actually been so busy that multiple orders would have to come in at a time. You can also get tours of the vineyard and a one-on-one drink with the owners and farmer.
Along with their many fresh goods produced here they also have a wide variety of fruits grown on the property to the highest quality. You can pick cherries straight from the trees in the garden, plums, pears, walnuts and apples. After climbing up in the trees to help with some fairy lights for the restaurant I noticed just the most beautiful and perfectly red cherries. Beautiful, but I really don't care for cherries. Markus's son, Dominick, asked me to try one. I will not turn down free food. The cherry was plump, sweet and so delicious like a strawberry. Needless to say I now like cherries.
2. The Simmler Children Run Their Own Business - Offering Alpaca Hikes, Pony Rides and ATV Rides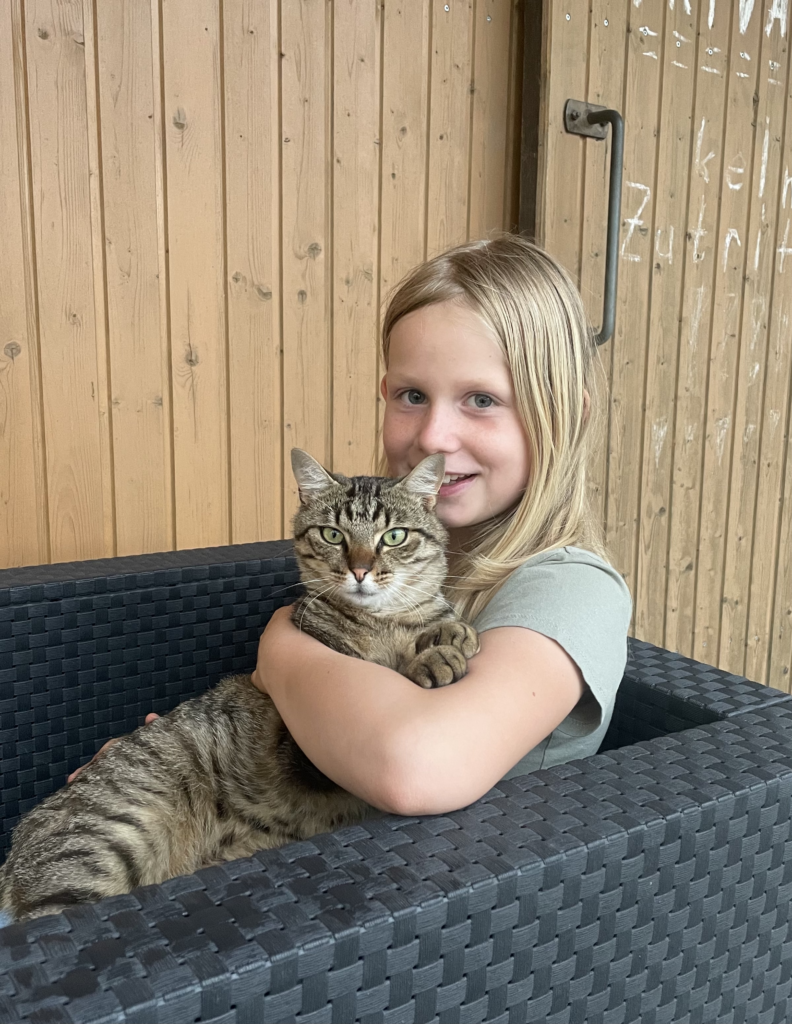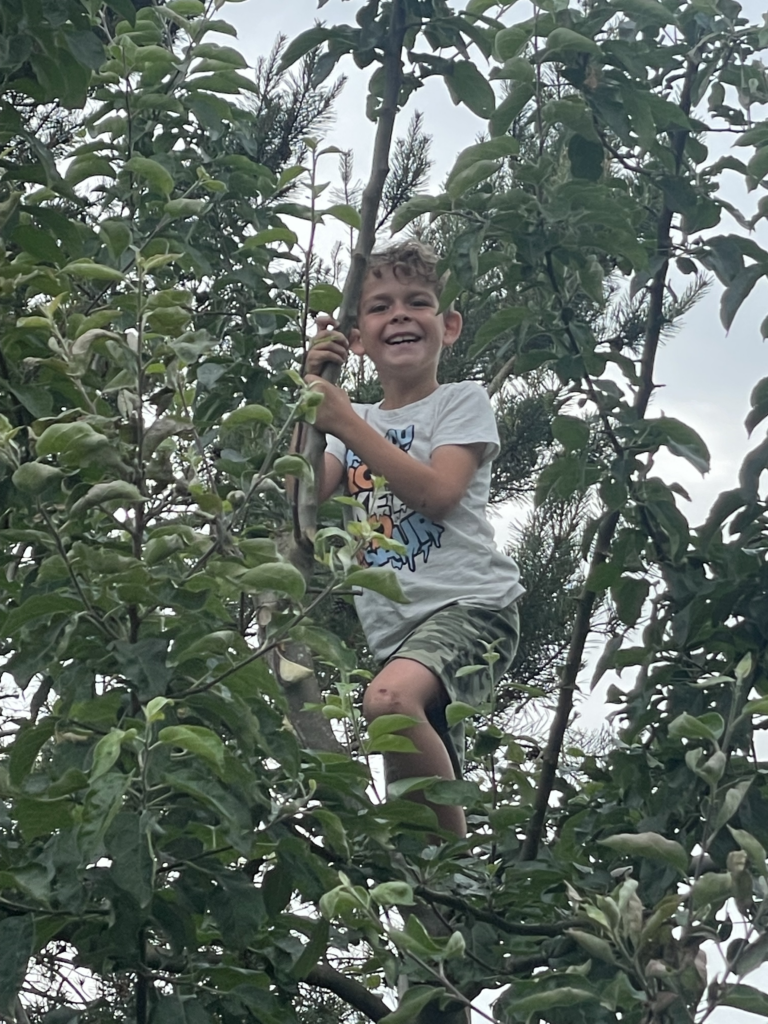 The Simmler children, Anna (9) and David (7), also run their own little business during the busier restaurant hours. Not only does the restaurant have a giant nature playground, farm animals and a carrousel but the Simmler kids offer other activities for the little ones. Anna offers "Alpaka Trecking" which is like hiking with an Alpaca around the vineyard as well as pony rides. They have three sweet and well mannered little ponies for the kids to all enjoy.
David however loves motorsports and offers the kids rides on his four-wheeler around the farm. The activities range from 10-25 Swiss francs and it brings in many families with kids of all ages.
Not only do the Simmler kids enjoy giving this experience to other kids but it also teaches them a little bit about business and running their own operation. Mature kids if I do say so.
3. They Produce a Fine Selection of Wines and Alcohol Free Schorle
Besen-Beiz despite their delicious food is well known for their wine selection. They have been growing some of the finest wine in Switzerland since I was just a little girl. I remember my parents going to wine tastings and dinners at Besen-Beiz and bringing home many bottles to friends and relatives in the U.S. The Simmler family produces about 30,000 bottles of wine each year from 8 full acres of vines grown on the steep hillsides of Buchberg. The grapes are grown here then pressed and processed by the Kumin company just south of Zurich.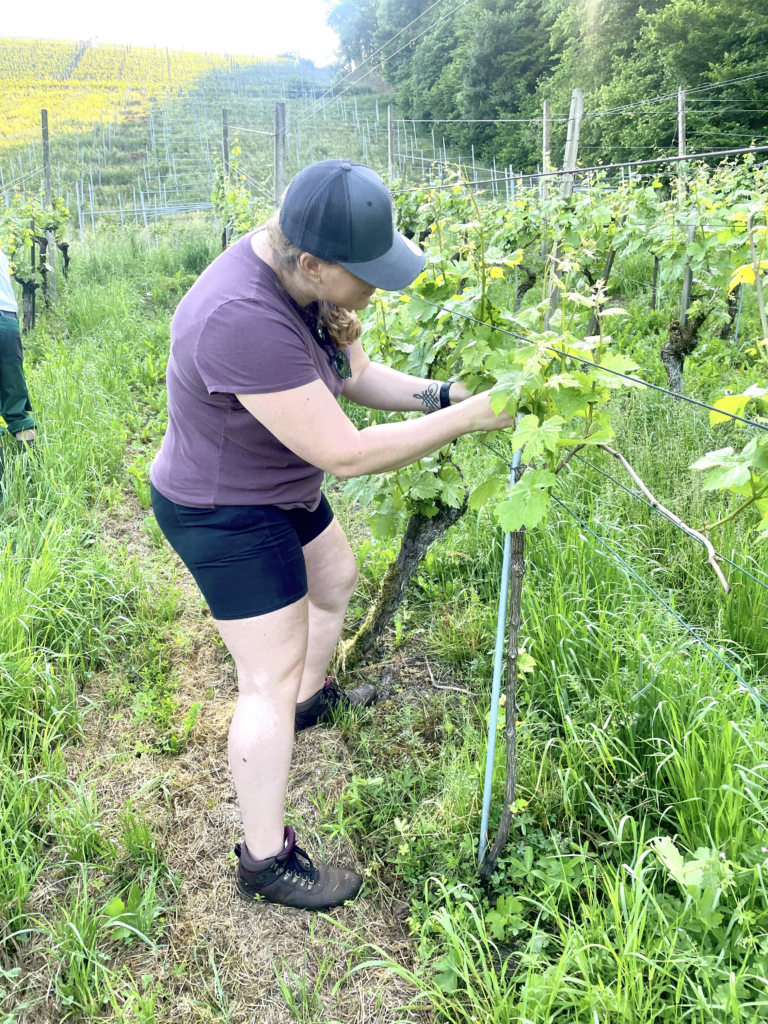 Markus specializes in the growing of these fine grapes. He even helps others get their vineyards started. When I arrived the plants were already about 2-3ft high. We hand trimmed all unnecessary leaves and branches making sure the grapes had enough sunlight and room to grow. "This ensures top quality" says Markus. He showed me that it was not good for wine quality if two branches came out of the same place. Each plant should only have about eight vines and the weaker ones should be discarded. Since the leaves are the powerhouse for the vines soaking up all of the nutrients, it was very important that only two leaves be taken from each branch and no more. So in this tedious process, all trimming was done by hang throughout the entire vineyard.
After this, the vines are treated for protection and maximum nutrients. This is all done by drones, and believe it or not this is the cheapest and most efficient way.
After about a week of growth the plants get around around 5ft. They grow extremely fast. You start to see little bitty bunches of grapes growing off of each vine. This is when we begin the process of making sure the vines are vertical and growing tall. The vineyard is structured like a grid and the vines, once they are tall, are held up by posts and strong wire. By hand we had to pull each vine into these wires and clip them tight so that the vines remained upright, along with discarding unnecessary leaves and vines that are soaking up too much energy.
One week later the plants are taller than me. Between 5.5-7ft we make sure each vine is still growing vertical so we repeat the process of trimming lightly and putting each wine in place. The grapes are a little bit bigger and we can start to really see color. When the grapes are that young, green grapes will make red wine and yellow grapes will make white wine. I had the privilege of working on the Pinot Noir and Rieseling vines.
In August the harvest will start, hand picking each grape carefully.
4. Besen-Beiz Runs on an Extremely Small Team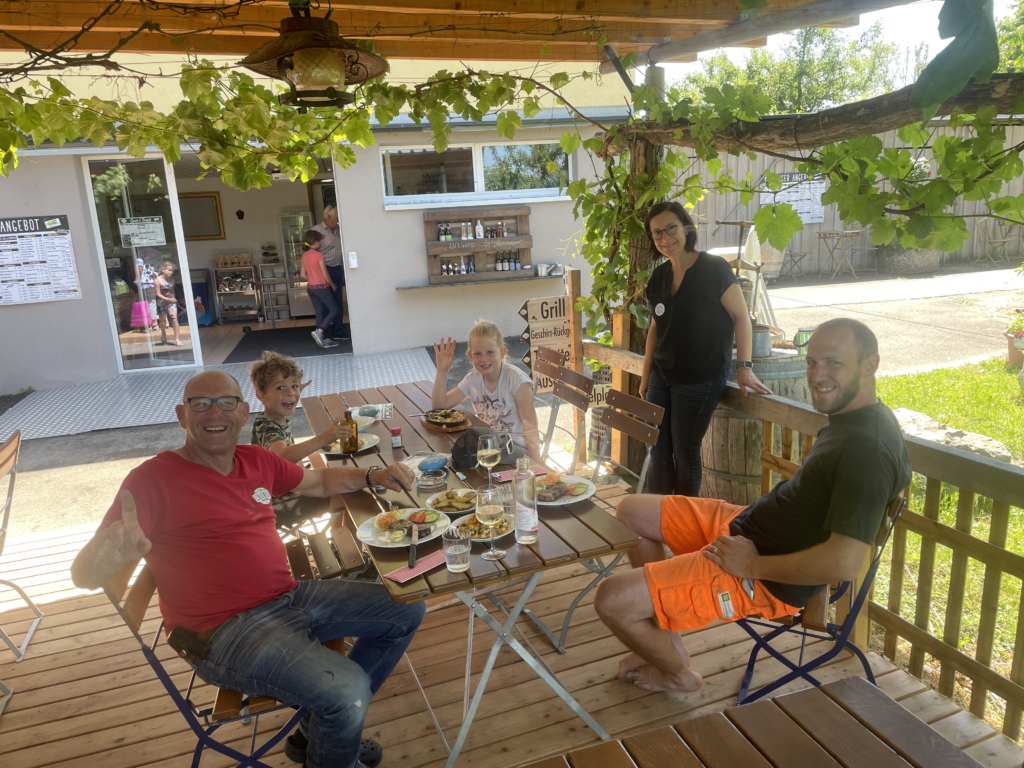 Their large number of tables and high volume is only taken care of by usually two ladies and two cooks. The heart of the team is of course Susanne Simmler along with her most trusted colleague; Ragi (who I just adore). The two most hard working employees are Carina and Tania as they work almost every day to make sure the restaurant always stays clean and well stocked. Carina and Tania are about my age and have come from Ukraine. They truly are the most kind and hardworking girls I know. While I have been here, I have learned quite a lot about them and where they have come from. Very eye opening and I hope to stay friends for many years to come. Their head cook, here on the busier days is Armin and he is from Egypt. Incredibly friendly and he always greeted me with a smile. Susanne has a few other incredible ladies that help to take orders and make drinks. I was able to work with everyone on the team in some form or another.
Of course apart from the employees, everyone from the family jumps in and helps. Much like Rushing Trading Co. the family fully operates and runs the business. The kids help with coffee and desserts while Dominick (the oldest son) and Markus maintain the grounds and the area for the restaurant.
5. Honey is Made on the Property by Grandpa Simmler
If you thought Besen-Beiz couldn't get any cooler as a restaurant, it really can. All of the honey used and sold in the Lindenhof is produced by Markus's father Erwin Simmler. He raises 16 bee colonies with close precision and passion.
When I first arrived in Switzerland I had probably the worst allergies of my life. Swollen eyes, runny nose, constantly sneezing, the works. I tried everything from the medicines here to steaming showers. During lunch one day Erwin noticed I was struggling even though he spoke no English. The next day he brought me two-day old honey to help with my allergies. It helped my allergies immensely and I will always be thankful for this gift!
6. They are Not Open for Bad Weather or Rain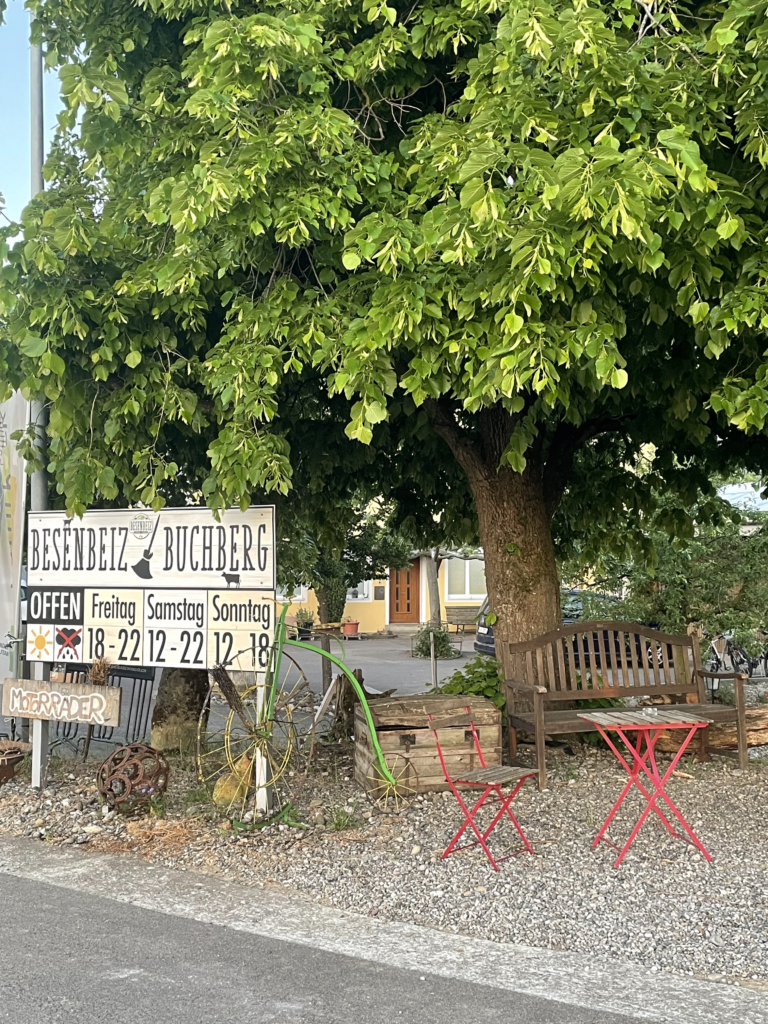 Their hours of operation are very concentrated on the busier days. Fridays they are open from 6pm-10pm, Saturday 12pm-10pm and Sunday 12pm-6pm. Due to most of their seating being outside in the garden and under the grape vines; when the weather is too cold or it happens to be raining the restaurant stays closed. However the Lindenhof market stays open every day from dawn to dusk.
They are also closed from November-April every year on account of cold weather and personal family vacation time. I love this!
7. They Host Amazing Special Events
Besen-Beiz hosts the most amazing events, and this is probably my favorite part about their restaurant. Almost every week they host some type of exciting and traditional Swiss happening. They host many wine tastings for each season showcasing their best bottles from the previous year. This is probably their most typical event. While I have been here they also hosted a Robin Hood Challenge Tournament for anyone who would like to try their hand at Archery. They will also hold a tradition Swiss Horn Yodeling concert, specialty breakfast sausage tasting, another concert for accordion players then my absolute favorite: the open air keno.
The restaurant sets up a big open air keno on their farm with a very rustic and old-time vibe. Every year for this they also pick a theme. This year it is the great music legends; Walk the Line (Johnny Cash), Bohemian Rhapsody (Queen) and Rocket Man (Elton John).
Coming soon to Besen-Beiz is also an amazing new experience; The Escape. Similar to a high-profile scavenger hunt you will be able to come to the restaurant, get a backpack, adventure books, special locks and puzzles then you will be able to hike the vineyard and the farm to find clues and win a bottle of wine at the end. This is a new attraction that will be available at Besen-Beiz this coming fall. The creators are now busy at work creating a custom experience for the guests at this specific location. This will be an excellent attraction for the entire family.