If you have read my Bernese Oberland post you will know that I visited the Top of Europe: Jungfraujoch. This is a mostly glass building on top of the largest mountain in the Bernese Oberland: Jungfrau. I decided to write a separate mini blog about this experience because there are quite a few things to do. I thought it was important to share my experience so that if you decide to visit you'll know what to see. First thing you must know: it was an extremely expensive excursion but you can spend the whole day up there. The train to get to the top of Jungfrau was about 200 Swiss Francs for me. Quite outrageous, but I figure they are trying to make up for their losses during Covid-19. Even though it was expensive I found it 110% worth the money especially if you love the snow and the mountains like me.
1. Snow Bar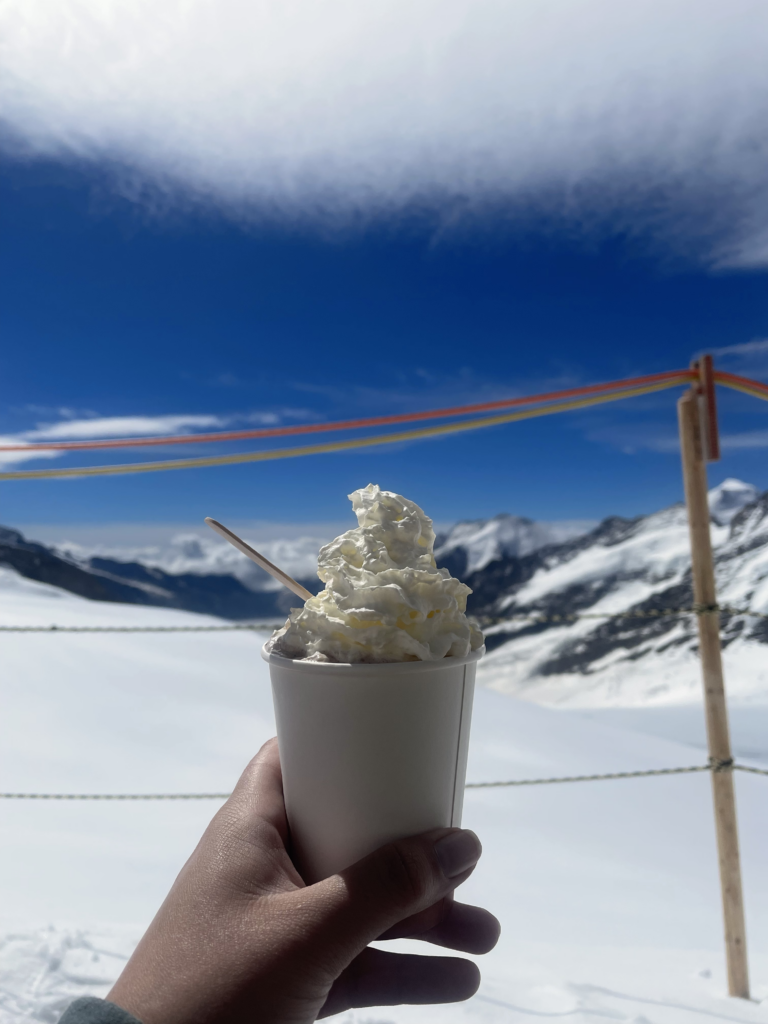 Just when I arrived I surpassed all of the historical walkthroughs and restaurants. I was on a mission: to see the snow. I really went out of order. When we arrived I walked quite a long ways through a dark cave, it had to come out somewhere. I then arrived to this heavenly opening overlooking the snow covered tops of the Swiss Alps. I believe I cried a little bit at the beauty and magnificence of what I was seeing. It was beautiful. Mountains 360, crystal white snow everywhere, blackbirds flying around. There was one other thing in my view: the Snow Bar.
It had funky mood-fitting music playing. Something you would hear on an epic travel reel or new-age documentary. The bar served coffees, alcoholic hot chocolates, pastries, cocktails and even more. Then they have lounge chairs set up overlooking the spectacular views. I grabbed a hot chocolate with rum and cream then a butter pretzel and sat for a good hour. Many people around me actually sat longer. One thing you'll find about me on this blog is that I really despise sitting still. I feel like I am wasting time when I could be seeing new things... I really need to work on this.
2. The Mountain Hikes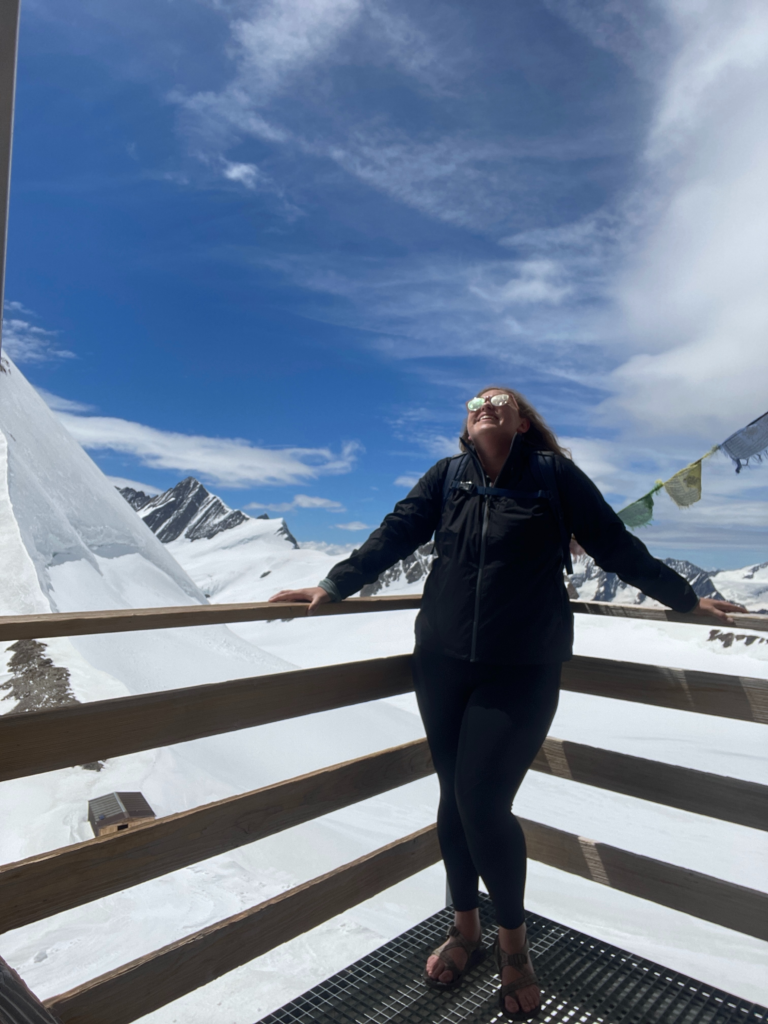 When I had finished my delicious goodies I had overheard a man saying that a hike to the top of Jungfrau that overlooks the other side is only a 45 minute walk. Of course it is straight uphill but I thought: that isn't so bad. My problem was I didn't have the right shoes on. I only brought Chacos. Due to the intensity of the sun above the clouds though I wasn't cold and decided to make the trek.
I did have to stop on the way up a few times. My ears were burning and I couldn't tell if it was from the cold wind or the altitude getting to me. The uphill battle was brutal and I wasn't the only one stopping. The view however just kept getting better and better naturally. I had contemplated stopping many times, there were many reasons I could have given up. I knew that I would absolutely regret it if I did not finish this hike, not for anyone else but myself.
I made it to the top to admire the beautiful view of cliffs and mountains on the other side. Still snow covered but unbelievably beautiful. There was a restaurant at the end of this hike (that took me over two hours by the way... 45 minutes my ass). It was awesome you could only reach the restaurant by hiking and you needed to put on provided sneakers before you entered. Due to what I thought was altitude sickness I wasn't in the mood for eating or drinking anything, so I promptly walked down back the way I came.
3. Sledding
Not only is there a Snow Bar on this side but also a sledding hill where there is even an escalator so you may continue to sled until you are worn out. Due to my choice of shoe I did not sled, but I watched many people do it. Many families plowed into big snowy hills just like orange leaves on a nice Autumn day. The sleds were like inner tubes just gliding down the slick and compact snow.
This adventure did scare me though. Somehow it wouldn't seem hard for someone to go just a little too fast and end up sliding all the way down Jungfrau, as they were right on the edge. I thought: In America they would never allow this.
Mini Adventure: On this side there were also helicopters parked. They offer birds eye views of the Alps and you can go up in a helicopter. I should have splurged and done this, it looked incredible.
4. The Ice Palace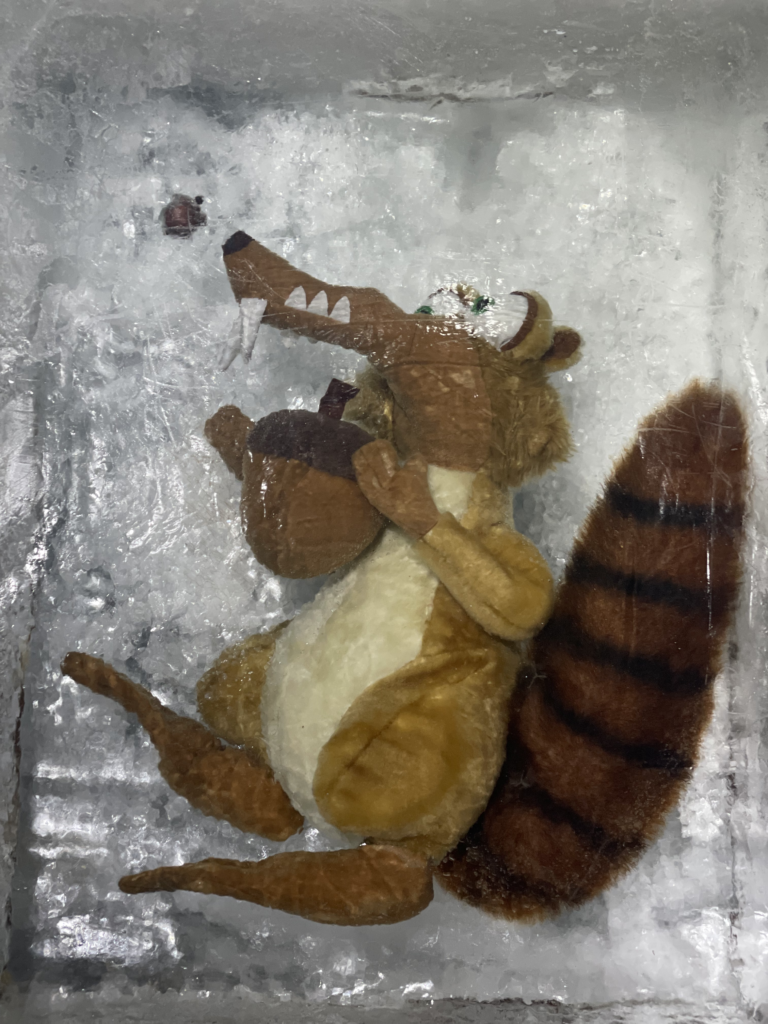 Now this was a cool experience that I think everyone would find cool. After doing the historic and detailed walkthrough of the Jungfrau history I stumbled upon some stairs that pointed "Ice Palace". It was down below, underneath Jungfraujoch. When I arrived to the bottom of the stairs I walked through an entire hallway made of ice. From floor to ceiling slick ice just surrounded you like a tight cave.
I skated my way down the hallway, and this was pretty fun, I felt like a little kid. I arrived to some bigger rooms with mazes of tunnels. Every wall had a different work of art all made out of ice from penguins, to bears, to pianos and everything in between. All of the ice was bright and beautiful, perfectly chiseled like a cut diamond. There were even ice displays in the walls to gawk at.
5. Tallest Chocolate Shop in the World
Lindt had recently open a tiny factory and shop up on Jungfraujoch. There is a historic walkthrough about the history of chocolate and the process of making the chocolate but then you have the shop. Beautiful shiny truffles just in piles everywhere, naturally I bought a bag. Lindt truffles are definitely hard to beat.
There is also some bragging rights by visiting the tallest chocolate shop in the world. Me being one of the biggest chocolate lovers on this planet... it was only fitting for me to pay this shop in the sky a visit.
6. A True Swiss Food Experience
Jungfraujoch has four restaurants to choose from. One you must hike to but the rest are available as soon as you hop off the train. One is a sit down restaurant called the Crystal. Although I wanted to eat here it was a little busy and I was ready to head back down the mountain (I'll explain why in the next point!). I decided to go to the self serve cafeteria where the food is also very good. You have many traditional Swiss and European eats to choose from. I had my personal new favorite: Alpine Macaroni. I am writing a blog next on the best Swiss eats so I will explain this one in detail!
Naturally I also got a tall beer and I sat in front of the huge glass windows where I could admire the snowy rocks one more time. Talk about a good view for a meal, this was something to brag about.
7. The Promised Hike Down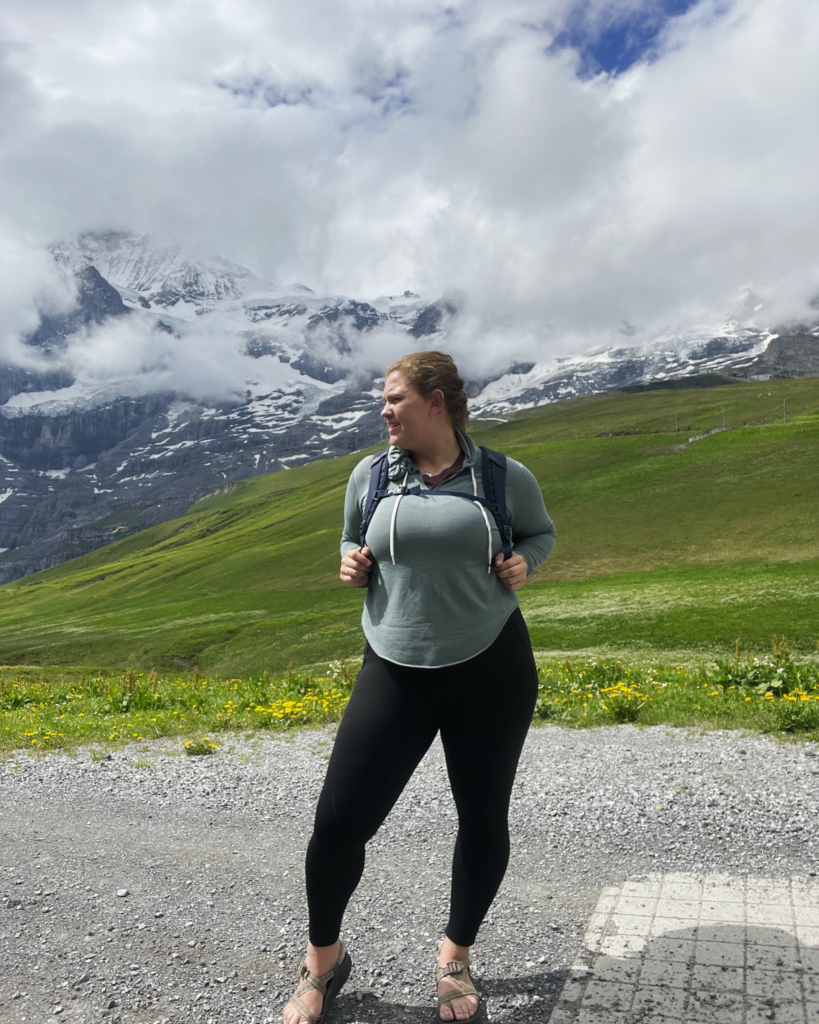 On the way up the mountain I had noticed there were many hiking trails that were near the tracks. You could hike up or back down from Jungfrau. I promised myself that I would ride one stop, get off the train and hike down the mountain. The hike was almost on a cliff and gave the most amazing views I have every seen. Rolling green hills with color pops of beautiful mountain flowers being towered over by giant black mountains covered in snow. Just spectacular.
I got off the train and proceeded to hike down. I was the only one doing this, I didn't see anyone else on my wandering. The weather was even perfect, sunny and cool. Great day for a hike. I didn't really do it for the exercise though... I did it for the view. Again.