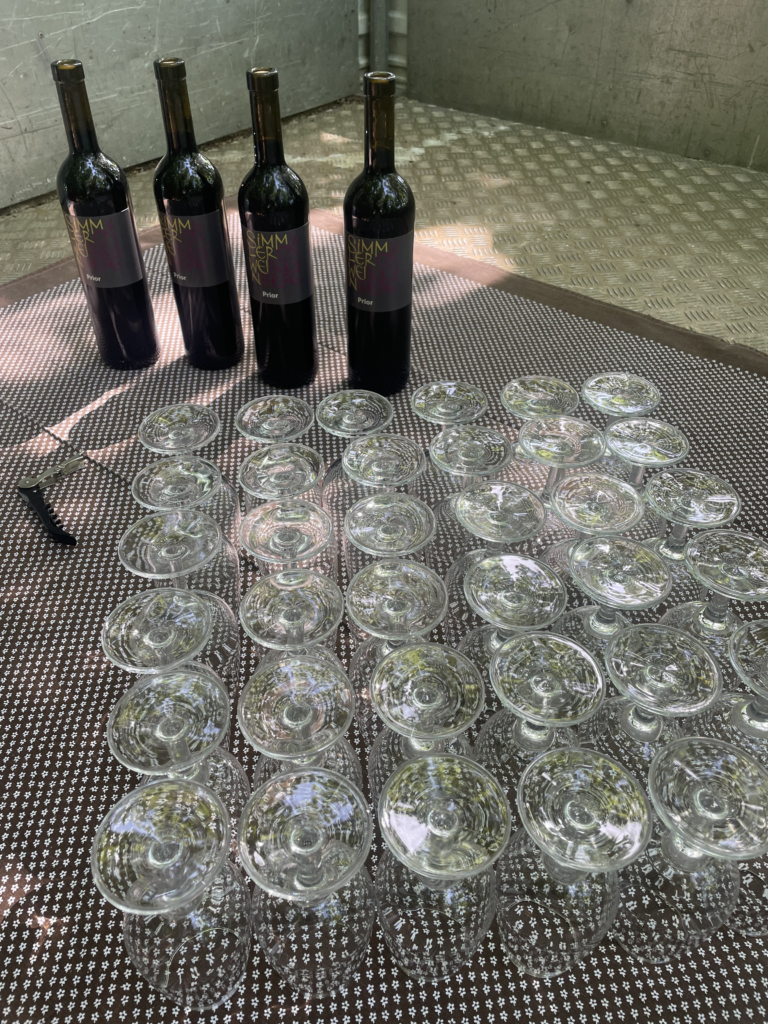 Wine growing has been apart of the Simmler family in Buchberg Switzerland for many generations. Marcus Simmler is now the current organic wine grower and president of the agriculture group in Schaffhausen Switzerland. As I have stated in my previous blog Markus and his wife Susanne focus on a very sustainable way of living by using only goods produced on their farm and in the region to fill their restaurant and small Hofladen market. Markus is also the oldest wine grower in the region (meaning their vineyard is the oldest). Their steep hills and access to great sunlight in the summer time makes Buchberg the perfect place for grapes to soak up the Swiss sun. Every year they produce about 30,000 bottles of wine over 8 acres of grapes which is truly not much, but because of the fine quality of the grapes only the best are chosen.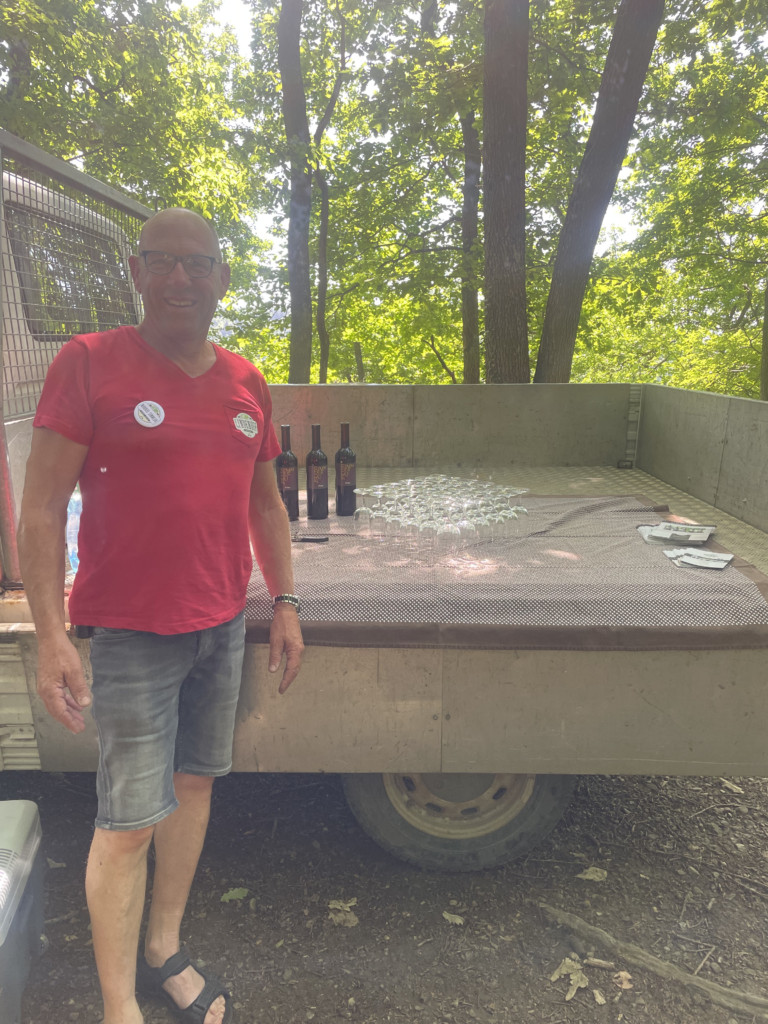 In my previous blog I had described the growing process and the work that I had experienced in my time with the Simmler family in the vineyard. This was truly an unforgettable experience that I will continue to forever be grateful for. I also had the privilege of meeting all of the wine growers in the region who came for a tour, tasting, wursts and desserts. As well as this I also got to facilitate a wine tasting in the vineyard for a group that hikes the vineyards with a guide and tries the best wines of Switzerland. So cool!
1. Simmler Pinot Noir
This romantic, light red wine has strong strawberry and blackberry aromas. Very soft start on the palate; broad with heavy berry with a dense but not dark ruby red color. A full-bodied and noble wine that goes well with grilled dishes such as sausages (wursts) or even sirloin. This red wine is also served well with unpeeled potatoes, and heart vegetable dishes preferably those which grow in cooler seasons.
When picking these grapes, when they are only babies, I noticed that Pinot Noir while not being a red grape was actually bright green before it matures.
The correct serving temperature of this wine is 14 to 16 degrees Celsius or 57.2 to 60.8 degrees Fahrenheit.
More Info: Pinot Noir is actually derived from the French words: pine and black. The reason for pine is the grapes are actually bunched up together in a tight cluster creating a pinecone shape. The grape is actually mostly associated with the Burgundy region of France.
Pinot Noir is actually one of the most difficult grapes to utilize for wine. Due to its tight cluster it requires micromanaging of light exposure and hand-trimming of leaves to make sure that every grape get's adequate nutrients.
2. Simmler Prior - PIWI Wine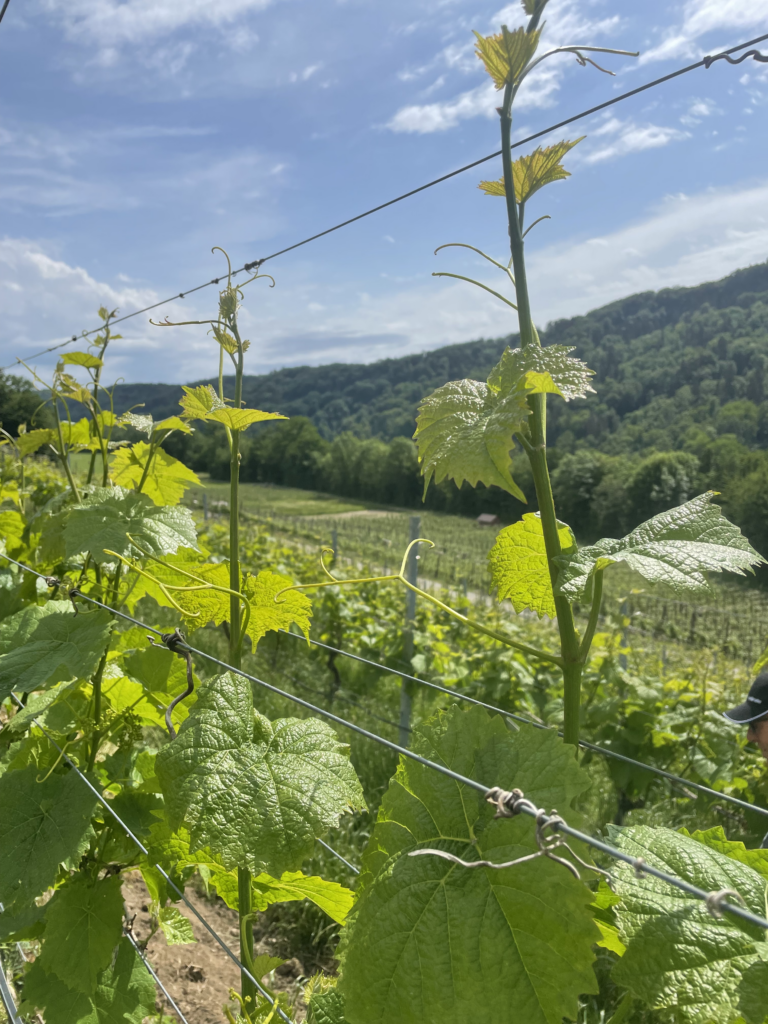 The new and exclusive red wine from a resilient grape that withstands many harsh conditions and obstacles; Prior is truly convincing with its rich fruit flavors such as raspberry and blackberry with soft tannins. Its aromas are also truly fruits and very sweet on the nose. It has a powerful and slightly darker ruby red color than the Pinot Noir. Very persistent in flavor and has a finish full of character. This red pairs well with darker meat and even Mediterranean dishes such as lighter and even heavier pastas and rice dishes.
The correct serving temperature of this wine is 14 to 16 degrees Celsius or 57.2 to 60.8 degrees Fahrenheit.
More Info: The PIWI grapes is actually a fully fungus resistant grape. It is actually considered a hybrid grape or different red varieties. As it is brand new there is not much information. Prior is actually considered the best hybrid of these grapes. Typically this grape has complex and extravagant aromas with slightly spicy fruit notes.
3. Simmler Cabriolet - Cuvee Barrique (Barrel Tank)
This wine has the very tradition cassis note (black current liquor made in Burgundy France) or Cabernet combined with the soft tannins of Pinot Noir give this wine an incomparable and exotic touch. The original rust aromas and storage within the barrique barrels make for a well rounded red selection. It goes wonderfully with cold meats and mature cheeses.
The correct serving temperature of this wine is 14 to 16 degrees Celsius or 57.2 to 60.8 degrees Fahrenheit.
Typically the Cuvee Barrique wine is just a very different way the wine is stored for fermentation. In this case the wine was stored in steel or granite tanks for a new and improved wine flavor. It was actually a practice borrowed from the dairy industry in the 1960s. This an extremely hygenic way for wine makers to keep their wines clean and free from any outside invaders such as bugs and other smells. These tanks also are tightly sealed which keep the fragile fruit flavors and aromas well intact.
4. Simmler Federweisser (Feather White)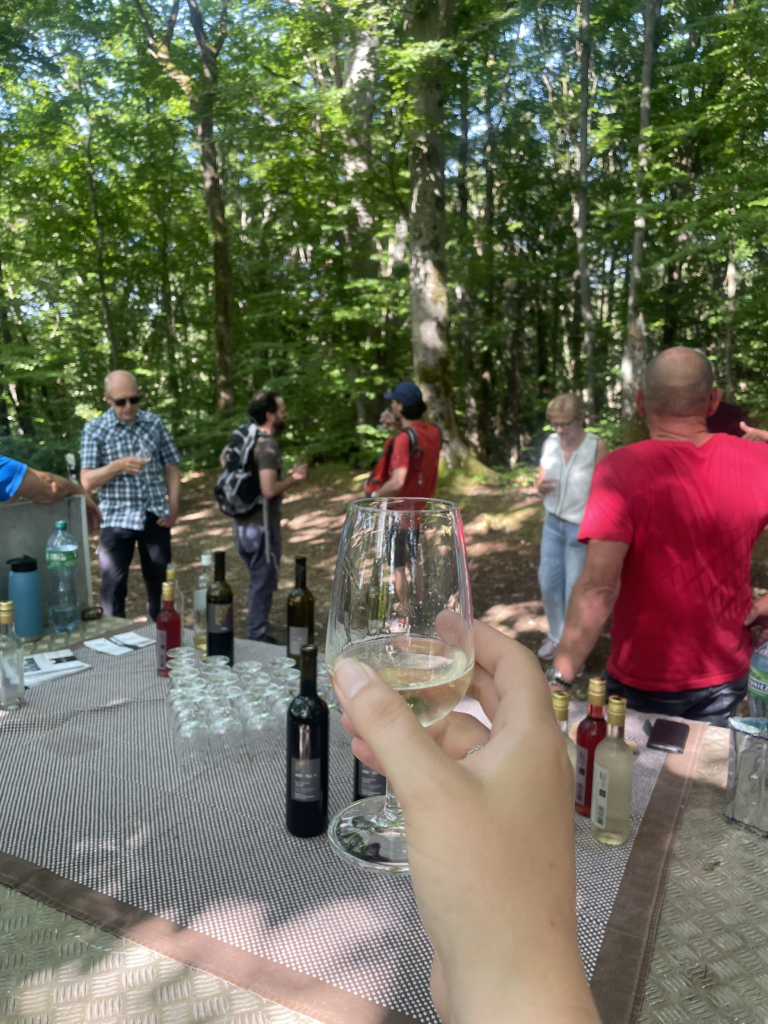 Aromas of peach and pineapple with strong floral influences really shape this delicious red wine make from red grapes. (This one is my favorite!!!) This fresh white wine has a light sparkling attack with a full body and a long aromatic persistence. Excellent as an aperitif Markus would say or great with cold dishes such as charcuterie, fine cheese and sweet desserts.
The correct serving temperature of this wine is 8 to 10 degrees Celsius or 46.4 to 50 degrees Fahrenheit.
More Info: This wine is actually a very cool traditional wine for the German culture typically drank in the months of September and October. The Feather White refers to a very young wine similar to just an alcoholic grape juice. Yeast is actually added to the freshly picked and pressed grapes. This causes the sugars in the grape to quickly ferment in presence of the yeast and this is what gives it that sparkling attack. Traditionally this wine is also drank with a traditional German dish: Zwiebelkuchen or onion cake made with usually bacon and cheese. Yum... I need to try this.
5. Simmler Grand Vin Mousseux (Great Sparkling Wine)
Grapefruit and citrus aromas of the rare Johanniter grapes give this grand sparkling beverage a personal touch. It has a refreshing and intense carbonation that is naturally created during the fermentation. Full-bodied and reviving wine is a great aperitif that goes well with cold dishes and more fruit forward desserts.
The correct serving temperature of this wine is 6 to 8 degrees Celsius or 42.8 to 46.4 degrees Fahrenheit.
The Johanniter grape is actually a more rare grape to Swiss wine growers. It is actually a hybrid grape resulting from artificial self-fertilization between Riesling and Freiburg. It was a grape created in 1968 by Johannes Zimmerman at the Freiburg Research Center. It is a highly productive and resistant grape with strong citrus flavors hidden by residual sugars.
6. Adam & Uva - Alcohol Free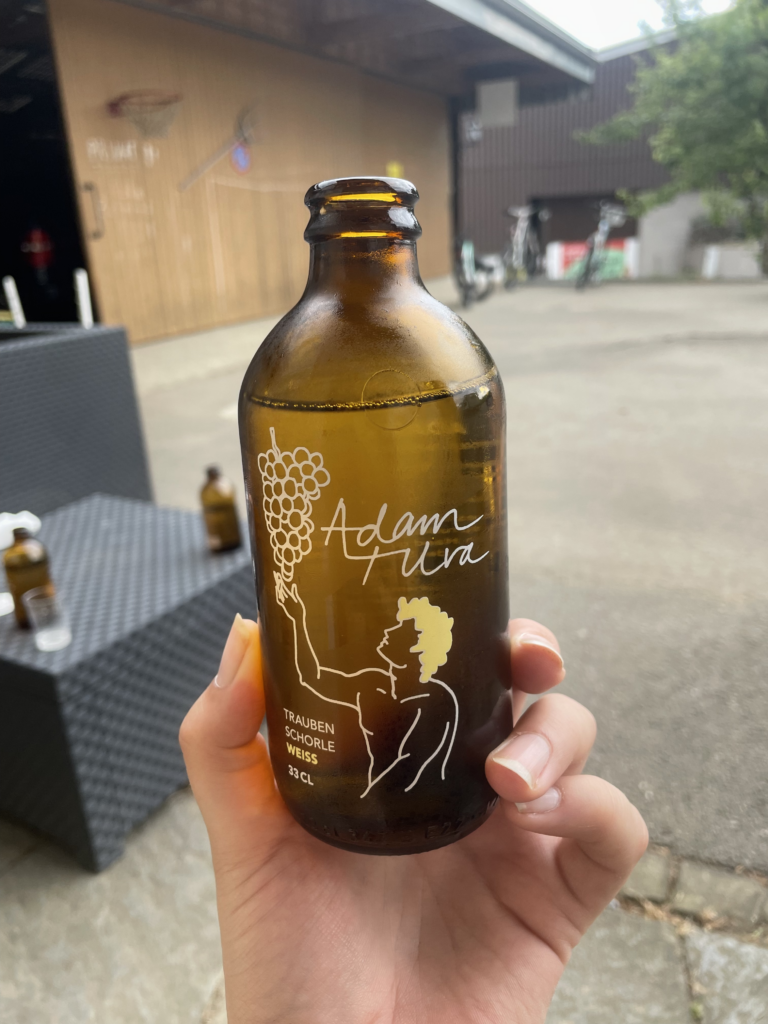 This amazing drink is just as simple as it sounds. So unique and delicious in taste, there is actually nothing like it on the market. Hand-picked grapes from local cultivation and the best, bubbling spring water from the Alpstein in Switzerland - no more, no less.
White Selection: Sparkling and refreshing with hints of cool green grapes and green apple.
Red: Full-bodied and intense in dark fruit flavors but still sparkling and fresh.
Thanks to the natural softness of the local grapes, this trendy spritzer is isotonic and wonderfully refreshing. This slightly less sweet grape spritzer is ideal as a thirst quencher, an alcoholic drink mixer or as even something to flavor your water.
The correct serving temperature of this wine is 5 to 7 degrees Celsius or 41 to 44.6 degrees Fahrenheit.
7. Trubetau Spritzer - Alcohol Free
The pleasure of grapes without the alcohol, aromatic and elegant this drink is truly a work of art.
White: Intense scent of peach, pleasantly tingling body, sweetish-elegant, persistent finish.
Red: Intense raspberry aromas, pleasantly sparkling body, with a slightly sweet-tart finish.
Excellent as a non-alcoholic aperitif and as a refreshing thirst quencher. Here at the restaurant they also use this as an amazing mixer for cocktails and other wines for delicious wine spritzers or just to add a little more sweetness to the wine.
The correct serving temperature of this wine is 5 to 7 degrees Celsius or 41 to 44.6 degrees Fahrenheit.